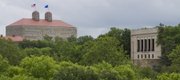 Subscribe to the email edition of Heard on the Hill and we'll deliver you the latest KU news and notes every weekday at noon.
Your daily dose of news, notes and links from around Kansas University.
• I'm back from Las Vegas (and I have to have a little bit of money left somewhere), but I'm coming back to a campus that's a little busier (at least about as busy as summer gets on campus) these days, with the first day of summer classes today.
In addition to a few more students hanging around, KU's popular Mini College program is also going on now. The program, in its fourth year, invites alumni and non-alumni alike to come back to campus (for a fee) and sit in on some really pretty interesting discussions led by KU professors. Here's a look at the schedule for this year.
Also going on are a whole bunch of summer camps. KU has camps on just about any topic you might imagine. There's one for juniors in high school looking to become law students, and there's even a camp all about statistics (which is actually pretty popular, as I'm told).
• A bit of KU Hospital news to report next, as it becomes the only hospital in the state offering kidney transplants after Via Christi Health in Wichita suspended its program, according to The Associated Press (via the Wichita Eagle).
The Wichita hospital is suspending its program after learning of the deaths of four patients who received kidney transplants in the last year.
Patients in the area could also go to Oklahoma City or Tulsa, Okla., to have the transplants done while the hospital conducts the review, which could take several months.
• Fans of Appian of Alexandria and Diodorous Siclulus (you're out there, right?) will be pleased to know that their works are headed to KU's Kenneth Spencer Research Library, thanks to a gift of old and rare European books from the 16th through 19th centuries, according to a KU statement.
The gift came from Eliot S. Berkley, a Kansas City native and graduate of Harvard, who collected old and rare books for more than 50 years.
KU librarians said he had a good eye for this sort of thing, as Appian of Alexandria's history of Roman civil wars (1551) and Siculus's history of the Italian city states of Venice, Milan, Mantua and Ferrara (1548) can be found in fewer than five American or European libraries.
The Spencer is filled with this kind of stuff. I've seen a few of the really old books they've got over there, and I can safely report that we don't take nearly as much care in the binding, paper creation, ornamentation and illustration of books as we used to.
• You don't need a summer camp to tell you how to send me tips for Heard on the Hill. Just keep them coming at ahyland@ljworld.com.
Copyright 2018 The Lawrence Journal-World. All rights reserved. This material may not be published, broadcast, rewritten or redistributed. We strive to uphold our values for every story published.