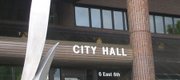 Subscribe to the email edition of Town Talk and we'll deliver you the latest city news and notes every weekday at noon.
News and notes from around town:
• It looks like a new Alzheimer's treatment facility in West Lawrence is going to happen after all. Back in March, we reported on plans that had been filed for a new Alzheimer's unit along Research Park Drive.
The project has had a couple of starts and stops, but it is now at the Lawrence City Commission for final approval. Commissioners at their Tuesday evening meeting will consider approving a special use permit for the project, which would be on the west side of Research Park Drive between Bob Billings Parkway and 18th Street.
I have a few more details about the project than I did back in March. Plans call for two house-like structures to be built on the approximately 1.2-acre site. But the project is scheduled to be constructed in phases. The first phase would amount to a 4,994-square-foot building that could accommodate up to 16 people. The second phase would consist of a second building the same size.
The building is designed to house eight Alzheimer's patients, but each bedroom of the facility also is designed to allow the spouse of the patient to live there. The site plan also notes that adult day care services also may be provided on site, meaning the project would care for some people who don't live there.
But one detail that hasn't emerged about the project is who will operate the facility. The applicants for the special use permit are the property owners, which are groups connected to Alvamar Development Corporation. That company isn't a health care company, but rather a land company.
Regardless, the project is recommended for approval by the city's planning staff. Planners say the project — which is designed by local architect Paul Werner — does a good job of having a residential look to it. The project is being built on land zoned for a business park, but there is a residential neighborhood just west of the site. Click here to see a site plan of the project, which includes some line drawings of the exterior design of the facility.
• Friends don't let friends buy retail, is a saying I believe I've heard (although never from any of my friends). Well, when it comes to buying water in the city of Lawrence, we're all pretty much retail customers.
Last week we were talking about wholesale water customers like Baldwin City and rural water districts that buy huge amounts of treated water from the city of Lawrence. City Manager David Corliss has predicted the rates for those large customers will go down in 2013 as the wholesale water business becomes more competitive in the region.
But I wanted to tell you I don't believe that will be the case for standard old retail water customers, which includes pretty much all homes and businesses in the city limits.
Corliss told me a new draft of the city's five-year Water Master Plan is expected to be released in the next few days. That plan includes a list of all the major projects the city's water system likely will need to undertake in the next five years. My understanding is there will be a significant amount of work recommended to improve the city's aging water delivery system — in other words the old pipes in the ground.
Bottomline, I don't have an estimate yet on how much water rates may increase in 2013, but it appears very likely an increase will be recommended. At the end of the day, city commissioners make the final decision on the rates. Years ago, commissioners routinely went along with whatever the five year rate plan recommended, but recently commissioners have begun to give those rates greater scrutiny. A similar five year plan for the city's sewer system also is expected to come out in the near future.
• If the prospect of higher water rates have you all uptight, maybe an Asian massage is what you need. (Full disclosure, I don't know how an Asian massage is different from an American massage.) Regardless, 23rd Street motorists soon may drive by and wonder for themselves. Eden Massage, a business that bills itself as specializing in Asian full body massages, has opened in Louisiana Purchase Shopping Center at 23rd and Louisiana, in the space formerly occupied by LA Weight Loss Center.
Allison Vance Moore of Colliers International was the broker on the deal. She has now taken over leasing for the entire Louisiana Purchase shopping center. She said the center is going through an interesting transformation. It is attracting significant interest from a host of international-themed businesses. Already the center has DonDon, a Japanese rice and noodle bowl restaurant, Peking Taste Chinese, and now the Asian massage place. Moore said she also is close to signing another international-themed business to the restaurant.
"I think there is a just a synergy that is building there, plus the center has good access to KU and its international student population," Moore said.
Plus, given the name of the center — Louisiana Purchase shopping center — it makes sense. I have relatives that live in Cajun country in Louisiana, and we've always considered that a foreign country. At least, we've convinced them they need a visa if they are going to stay with us for more than a week at a time.
Copyright 2018 The Lawrence Journal-World. All rights reserved. This material may not be published, broadcast, rewritten or redistributed. We strive to uphold our values for every story published.