Sydney Lopez, a Lawrence High School sophomore, got her navel pierced when she was only 16.
"My mom was okay with it as long as I wasn't flaunting it and as long as I took care of it and made sure it was clean," Lopez said.
With a wide range of locations to place body jewelry, and adornments that fall in and out of style, piercings can be a source of conflict between parents and teens.
Middle school and high school youths are experiencing rapid changes and challenges that lead to self-awareness and growth. Teens begin to come into their own, experimenting with self-expression, which can lead to an interest in piercings.
In the state of Kansas, no individual under the age of 18 may receive any type of body piercing without written and notarized consent of a parent or guardian. Before the parent gives formal approval of their teen's new piercing, it is important to know what to expect from your piercing technician.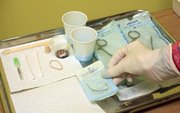 Safety concerns
"If you can pinch it you can pierce it," says Kaity Lewis, piercing apprentice at Skin Illustrations, 725 N. Second St. in North Lawrence.
To minimize the health risks of a new piercing, it is imperative that a certified piercing technician or apprentice conduct the procedure. Licensed technicians are required to display their certificate from The Kansas Board of Cosmetology in an easily visible spot on the shop wall.
The technician is also required to instruct each client in aftercare of their piercing before the procedure is performed.
A piercing apprentice, someone working toward their certification, may also conduct the procedure, though the technician is required to be in the room at all times.
Once the procedure is finished, the technician is required to send the client home with printed aftercare instructions and make sure they answer any questions the client may have.
The technicians should always keep instruments, jewelry and skin sterile, wear medical gloves at all times, and make the client feel comfortable and not pressured, Lewis says.
When choosing a piercing salon, evaluate the cleanliness of the shop and stick to your intuition; if you feel uncomfortable with the location, choose another salon.
Dr. Lee R. Bittenbender of the Dermatology Center of Lawrence advised those set on getting a piercing to "definitely have someone do it who is experienced."
Bittenbender emphasizes the importance of cleanliness of instruments and preparation of the skin to remove dirt and bacteria prior to a piercing to avoid infection and blood-borne diseases.
A piercing may be infected if the area is red, swollen, tender or excreting fluid, which may require treatment with antibiotics.
In healthy piercings, Bittenbender explains that it is "natural to have some inflammation manifested by redness and mild tenderness. It should last one week to 10 days."
Later effects
Long-term health complications can also be induced by new piercings. Jewelry can cause scarring such as keloid scars, which can form nodules much larger than the original puncture. These scars are produced from an overgrowth of collagen, and while they are benign, can cause itching, tenderness and unsightly growths.
Bittenbender notes there is potential to develop an allergy to nickel, a metal that is fairly common in body jewelry.
"Once you develop an allergy to nickel, you become allergic all over the body," explains Bittenbender. The allergy can cause itching, redness and scaling, as well as pose problems if an individual needs to receive a medical implant containing nickel in the future.
Piercings can also distort the skin, especially in soft-tissue areas such as the ear lobe. Heavy or hoop-shaped earrings can enlarge and elongate an ear lobe piercing. If an earring is caught or snagged, it can rip through the entire ear lobe and create a "V" shaped notch.
"I've repaired large holes in the earlobe under local anesthetic … the area is sutured together. There will always be some degree of scar," Bittenbender says.
Myths
Although serious medical complications are important to be watchful of, there are some myths associated with piercings.
Lewis says that bleeding to death as a result of a tongue piercing is nearly impossible.
"Basically there are two veins that go on either side of your tongue," while the piercing is placed in the center of the tongue.
Lewis notes that a navel piercing will not conflict with any internal organs and refers back to her "if you can pinch it" rule.
Paralysis as a result of an eyebrow piercing will not occur as long as the procedure is conducted by a licensed technician who will place the jewelry at the proper location and angle, Lewis says.
Dress codes
Lawrence Public Schools' middle school and high school dress code allows students to wear body jewelry as long as it does not present safety hazards, such as sharp points or heavy chains.
Student handbooks for Lawrence and Free State high schools both warn that "student clothing that has the potential to cause a disturbance in the educational program of a school shall not be allowed."
However, once a teen leaves high school, it is important to consider how piercings can affect employment. A business or corporation may address body jewelry in their dress code, but perception of piercings varies among employers.
Barry Kingery, co-owner of Express Employment Professionals in Lawrence, understands that piercings can be "just kind of an indication of who someone is."
The staffing and placement company often encounters job-seekers with piercings. The firm counsels individuals case by case and advises clients about their piercings based on what type of position they are searching for, Kingery says.
Kingery says it is important to consider that most people in hiring positions are older than most job-seekers, and perception of piercings can differ between generations. Although clients are advised individually, Kingery notes that "large ear plugs and multiple piercings start to get distracting."
Shirley Smith is owner of the Adecco office in Lawrence, a general staffing firm that provides services to both employers and job-seekers. Smith notes that each company has different dress codes, and a prospective employee must decide if they are able to abide by the regulations before they apply.
Piercings can be a safety hazard, especially in warehouse jobs or positions requiring physical activity, Smith says. In other positions, "professional services would prefer that you not have piercings; and if you do have piercings, don't wear them to work.
"They [employers] expect all their employees to represent their company in a certain way," says Smith.
Allen Martin of Lawrence wears nearly 10 facial and ear piercings but has never been asked to remove them by a past employer. Each position has different standards regarding body jewelry, and it is important to consider what type of environment the employee will be working in, and what kind of daily interactions their profession will demand.
You can take it out
Any piercing can be removed due to pain, change in taste or style, or to accommodate potential career opportunities. Although the original puncture may shrink in size, the pierced area will always have a hole.
If a teen and parent agree that a piercing is appropriate, it is critical to keep the jewelry clean, the piercing free from infection and seek medical attention if pain, redness or fluid excretion persist.
Bittenbender suggests considering the question, "Is the risk of infection, scarring or developing an allergy worth it?"
Lopez ended up taking her navel piercing out due to infection.
"After I got it done, it hurt for months on end," Lopez says. "It was about a three-month span and it still hurt, so we went to the doctor and got it disinfected really good, and they just told me to take it out."
Copyright 2018 The Lawrence Journal-World. All rights reserved. This material may not be published, broadcast, rewritten or redistributed. We strive to uphold our values for every story published.