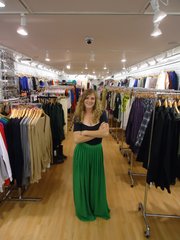 During my senior year of high school, I bought some sheer pants, and I wore them exactly once before tucking them in the back of my closet.
They were a wide-legged, black, thin pleated pair that caused everyone to ask, "Are those … pants?"
For some reason, I held on to them throughout the years and this past winter, I pulled them out again.
This time, I wore them around town while doing some errands with friends. When I got home, I promptly tucked them back into the same closet space they had vacated only hours before.
This spring and summer, sheer pants with opaque underlays can be found in nearly every shop that sells young women's clothing. While I've seen model upon model display how these pants look on the female form, I've only seen two women actually wearing them on the street.
I see only three options why my sheer-pants sightings are so infrequent:
• They're actually really ugly and not even an overwhelming amount of trendiness could convince a Lawrence woman to wear them;
• I'm not hanging out in the sheer-pants-wearing community;
• They're so different from pants women are used to, we're uncomfortable wearing them.
While all of these options probably have some bearing on the number of women not wearing these pants, I'd like to explore the third option.
These pants are great in theory, which is probably what led me to keep mine for years despite only wearing them once. They look great on the professionally photographed models in the fashion retail magazines, but as soon as we women get into the dressing room, we say, "Oh, these are too weird. I can't buy these."
These Jasmine-from-Aladdin-type pants are much different than most pants we have ever worn. They don't carry the same shape, produce the same movement or contain the same fabric that the pants we're used to do. They're different, yes, and a little weird.
But I think you should wear them, even if they're out of your comfort zone. If they pique your interest, or if you've tried on a pair before, go get some. They're comfortable, cute and, of course, unique.
The only downside? I don't foresee the trendiness of these pants lasting very long. But, as I've found, you can tuck them in the back of your closet for six years until you are courageous enough to pull them out again.
I guess all I'm trying to say is that if you like something, wear it, no matter how strange it makes you feel at first. Sheer pants are my personal example of an item of clothing that I love but can't rack up the bravery to wear often.
But starting today, that ends! No longer will I be embarrassed by something I chose to clothe my body with. No longer will I care what other people are wearing enough to influence my own decisions about clothes. No longer will my self-consciousness overwhelm my desire to dress according to my own style.
Excuse me, I'm going to go find my sheer pants.
Copyright 2018 The Lawrence Journal-World. All rights reserved. This material may not be published, broadcast, rewritten or redistributed. We strive to uphold our values for every story published.