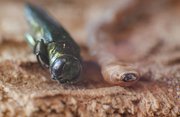 There's a deadly bug on its way into northeast Kansas. And when — experts say it's a matter of when, not if — it gets here, more than 10 percent of our trees could die.
The emerald ash borer is an invasive beetle species that's originally from Asia. It was first spotted killing ash trees in Michigan in 2002 and has spread rapidly. Invasion was confirmed in southern Missouri in 2008, and the Missouri Department of Agriculture confirmed on Wednesday, through just one infection of one tree, that emerald borers have made their way into Platte County, just about four miles from the border with Kansas.
Mary Geiger, a spokeswoman for the Kansas Department of Agriculture, said that her office has been tracking borers for years and working to prevent their spread with traps on ash trees throughout the state. There have as yet been no sightings here, and crews are working to contain the infestation through ash tree culling in Kansas City.
Rose bushes also under attack
Ash trees make up a lot of the local wooded areas, but some of the county's prettiest flowers are under threat, too. Rose bushes, especially Knock Out roses, get a viruslike infection called rose-rosette disease. Jennifer Smith, Douglas County extension agent, said rose-rosette disease is especially bad this year because all plants are stressed under our drought conditions and more susceptible.
Dennis Patton, Johnson County extension agent, said that rose-rosette is even more prevalent there, especially in beds around commercial areas. The disease makes bushes grow oddly, resulting in hundreds of thorns on one stem, red instead of green foliage and deformed flowers.
Rose-rosette disease is often spread through pruning and once a plant gets it, the plant must be removed. But the soil can soon take new plants, Patton said. Gardeners can prevent the disease's spread by disinfecting pruning equipment between working on different plants, like you would wash things touched by someone who has the cold or a flu.
There are many kinds of borers present and native to Kansas, said Jennifer Smith, Douglas County's horticulture extension agent. But emerald ash borers breed and feed so quickly that they almost always prove fatal to the infected tree, usually in as little as one season. Larvae hatched on bark bore into the cambium layer of the tree — in between the bark and the wood, where the tree stores its food and water — eat through essential nutrients and leave telltale tiny holes shaped like capital letter Ds. Just one emerald ash borer — smaller than a penny — can kill a tree.
Smith said that taking down ash trees around an infected one can put a damper on spread because adult emerald ash borers aren't strong fliers, so it's hard for them to make it a long distance to another tree, the only place their life cycle can continue. Still, the species has spread to 15 states — Missouri is the farthest west — and killed at least 20 million trees. It's thought that the species came in originally through shipping on the Great Lakes and that individual bugs get moved around via people transporting firewood.
Michael Pitts, owner and operator of Lawrence Tree Service, is always on the lookout for the shiny green bugs. He says he's shocked that they've made it so close to home so soon. Northeast Kansas doesn't have nearly as dense of an ash population as the upper Midwest, but a significant portion of our trees are ash and therefore susceptible.
Emerald ash borers here would be good for Pitts' business because there would be a lot of dead wood that would need removal. But he isn't looking forward to what unfortunately looks to be inevitable.
"I'd still rather have the trees," he said.
Fight the bug
The Kansas Department of Agriculture asks campers to refrain from transporting firewood. Using only locally grown firewood — and burning all that you take or buy — is a good way to help prevent the spread of emerald ash borers, officials at the department say. If you think you've spotted an infestation in one or more of your ash trees, call the department in Topeka at 785-862-2180 or the national emerald ash borer hotline at 866-322-4512.
Copyright 2018 The Lawrence Journal-World. All rights reserved. This material may not be published, broadcast, rewritten or redistributed. We strive to uphold our values for every story published.