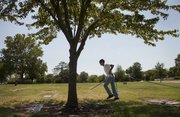 How dry is it?
Last week's scattered showers did little to abate the drought. The U.S. drought monitor classified Lawrence in a state of extreme drought. The city has had 14.2 inches so far this year, 8.75 inches less than normal. Exact rainfall totals vary. The measurement used comes from the Lawrence Municipal Airport.
The city of Lawrence hired Paul Kaldahl to care for its flowers and plantings. Instead he waters trees ­— eight hours a day.
The severe drought has withered the area's plants, and trees have not been spared. The city of Lawrence has lost 200 since the drought began.
Crystal Miles, the city's horticulture and forestry manager, said the city has moved extra people, such as Kaldahl, to tree-watering duty to save the city's 30,000 trees. Some of the trees could cost hundreds of dollars to replace if they die.
Kaldahl now spends five minutes watering each tree with 30 to 50 gallons of water.
"It's like with people," Kaldahl said about the trees. "When you start feeling thirsty, you're already behind."
This effort has kept all but one of the trees alive in Memorial Park Cemetery, where Kaldahl waters.
The city is not alone in its tree loss. Pines, maples and elms with brown leaves can be seen dotting Lawrence yards.
"If the leaves turn brown and die on the tree, you need to water it immediately and see if it can get it to leaf back out," Miles said. "When they get stressed, they don't respond very well to drought."
She said that trees with high root structures — maples and pines, for example — are the first to go.
Miles said that drought also makes trees vulnerable to insects and diseases.
Charyne Rahjes, who lives near Clinton Parkway and Kasold Drive, has learned this fact the hard way. She has lost one pine to disease during the drought, and another in her yard looks like it's soon to go. She has given up on watering the yard. It doesn't make a difference with the drought, she said. "I haven't mowed in a month and a half," she said. "It's not worth it."
If it's a bad time to have trees, it's just as bad a time to sell them.
"When it's hot, no one comes out, and I don't blame them," said Ann Peuser owner of Clinton Parkway Nursery, 4900 Clinton Parkway. "Pretty much all they come in for now is watering stuff."
Peuser said she's telling people to wait until it cools off in the fall to plant.
"In May we had 90-degree weather and said that was hot. If we have 95 degrees now, we'd say it's beautiful," Peuser said.
Peuser has had her hands full keeping all of her trees alive.
"That's all we are doing is watering," Peuser said. "It will rain, someday."
Tree care tips from Lawrence horticulturists Paul Kaldahl and Krystal Miles
• If you see brown leaves or leaves falling off, water immediately. Leaves falling off is a natural heat response process for trees. Brown leaves mean the tree, or at least the limb, is in the process of dying.
• Water trees early in the morning when evaporation is less.
• Use a soaker hose to water trees. Put the hose a small distance away from the base so that it can reach more of a tree's roots.
• Keep trees well-watered and healthy. Stress from drought makes them vulnerable to disease and insects.
Copyright 2018 The Lawrence Journal-World. All rights reserved. This material may not be published, broadcast, rewritten or redistributed. We strive to uphold our values for every story published.