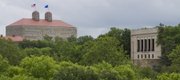 Subscribe to the email edition of Heard on the Hill and we'll deliver you the latest KU news and notes every weekday at noon.
Your daily dose of news, notes and links from around Kansas University.
• A KU scientist is one of several co-authors in a new study in the journal Nature that looks at the loss of biodiversity in protected tropical forest reserves.
This study got some national and international press coverage, but here's a good wrap-up from UCLA.
The study notes that these so-called "arks" are in danger of sinking (nice extended metaphor there, by the way).
Researchers call for better protection for the areas, including fighting internal and external threats and building support for protected areas among local communities, according to UCLA's synopsis.
Robert M. Timm, associate professor of ecology and evolutionary biology and curator of mammals at KU's Biodiversity Institute, was a co-author on the study.
• A few of you have asked, so I'll tell you that today I'm scheduled to receive some more information on the people who recently accepted buyout offers from KU.
Here's some background on the program for those just joining us.
It took a little longer than originally expected to get all the applications in and have everyone make a decision on whether they wanted to accept KU's offer.
More information as it's available on that front.
• Chick-fil-A-Gate continued Thursday, and I've just about said all I want to say on this particular topic, but I'll just point out a few more things.
One, KU isn't the only university that's upset to have Chick-fil-A on its campus after the company's CEO said he supported the "biblical definition of the family unit" recently.
Wichita State is also starting up a petition, the Wichita Eagle reported yesterday, and I saw several other universities doing the same across the country.
Another interesting point from the Eagle's article that probably isn't all that surprising: apparently a separate petition is circulating online to keep the restaurant open at KU.
(I haven't seen that other petition, but I'm sure at least one intrepid Heard on the Hill commenter has a good link so we can all go see it). UPDATE: I was right. UPDATE 2: Here's another one (likely an older one with a few more signatures on it).
• Heard on the Hill will be taking a brief break next week as I take a few days off, but don't worry. The tips you send in to ahyland@ljworld.com still count the exact same.
Copyright 2018 The Lawrence Journal-World. All rights reserved. This material may not be published, broadcast, rewritten or redistributed. We strive to uphold our values for every story published.