Douglas County prosecutors have charged a 25-year-old Lawrence woman with manslaughter in connection with the death of her 5-year-old child three months ago.
The child had ingested opiates before her death, according to District Attorney Charles Branson.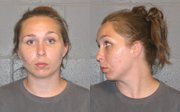 Rebecca Lynn Wynne is charged with reckless involuntary manslaughter and two counts of aggravated child endangerment of two other children, ages 6 and 4. All three are Wynne's children.
In a written statement, the district attorney said autopsy reports indicated the 5-year-old died after ingesting opiates during the evening of April 27. Branson said the alleged incident occurred at Wynne's residence in the 1500 block of Delaware Street.

According to jail records, Wynne was arrested Wednesday afternoon at her home.
And Thursday afternoon, she appeared before a judge, who set her bond at $25,000 with the condition that she not have contact with the children, who are in protective custody. He appointed defense attorney J.C. Gilroy to represent her.
Lawrence police detectives and coroner Dr. Erik Mitchell investigated the case, according to the court records. Sgt. Trent McKinley, a Lawrence police spokesman, referred questions Thursday morning to Branson's office.
Wynne's mother, Teresa Wynne, said Thursday morning she could not comment about specifics of the case, but she defended her daughter.
"Rebecca would never hurt her kids, ever," she said.
Wynne is next scheduled to appear in court on Aug. 2.
Copyright 2018 The Lawrence Journal-World. All rights reserved. This material may not be published, broadcast, rewritten or redistributed. We strive to uphold our values for every story published.