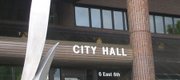 Subscribe to the email edition of Town Talk and we'll deliver you the latest city news and notes every weekday at noon.
News and notes from around town:
• I have never understood people who live in this area and root for the Chicago Cubs. I'm a proud Kansan, and that means the Kansas City Royals long have been bad enough for me. What's next, folks? Pining for Chicago because Kansas isn't windy enough?
However, I do understand how folks can get a hankering for good, traditional Chicago food. Chicago transplant Reggie Scott understands it too, and is set to open a new Chicago-themed restaurant and bar called Bottle of Blues. The establishment will be in the former Bambino's Italian restaurant location at 1801 Mass.
"Basically I just decided there was no place in town that was serving a decent beef sandwich," Scott said of his decision to get into the restaurant business.
For those of you not conditioned in Chicago lingo (that is, those of you who actually understand what a World Series is), when Scott talks about a beef sandwich he really means an Italian beef sandwich. Surely you are familiar with that culinary creation: sliced beef in a garlic and oregano-based broth served on a flaky Italian-style roll with a sweet and hot pepper-based relish called giardiniera. (I'm pretty sure that's actually Italian for the %$!!! Cubs lost again.)
Scott says the bread for an Italian beef is the key, and he has local M&M; bakery making a special recipe to serve the restaurant. Scott also plans to feature an Italian sausage and something called a Maxwell Polish, which refers to a grilled Polish sausage served in a style often found along Chicago's famed Maxwell Street.
"Maxwell Street was this like mile-long flea market in Chicago with great blues music and food," Scott said. "You could find anything on Maxwell Street." (Well, not Cubs World Series tickets.)
Scott also said he plans to try to recreate some of the blues scene as well. He said he plans to have live music on a semi-regular basis. He said the restaurant primarily will be geared toward neighborhood residents and blue collar folks, but he said he's sure some of the many KU students who come from the Chicago area will find their way to the establishment as well.
Scott plans to be open by about the second week of August, which he hopes will be about the time the new Dillons across the street brings throngs of people to the area.
"That's going to be like a block-long billboard," Scott said. "Everybody is going to come to check that place out."
• It wasn't quite as spicy as a good Italian beef, but Mayor Bob Schumm did deliver some words at last night's City Commission meeting that had a bit of a kick to them. They were directed at the city's Historic Resources Commission.
Schumm made a new appointment to the Historic Resources Commission, appointing former Lawrence-Douglas County Planning Commissioner Stan Rasmussen to the board.
Rasmussen's appointment was drawing criticism from some members of the Lawrence Association of Neighborhoods because Rasmussen previously had spoken in support of the proposed Ninth and New Hampshire project. Some neighborhood folks apparently thought that disqualified him from being a good Historic Resources commissioner, since the HRC had twice rejected that proposal on the grounds that it didn't comply with historic environs guidelines.
Schumm obviously felt differently and minced few words when a neighborhood representative questioned him about the appointment.
"I'm a little unhappy with what I see coming out of the HRC," Schumm said. "I was on the commission that created the HRC many years ago, and I said at the time I hope that it becomes an advocate for protecting our history but doesn't become obstructionist."
Schumm indicated on Tuesday that balance had become out of whack, and not just recently. He pointed to three major downtown projects that the HRC has denied: the Borders bookstore building, the Hobbs Taylor Loft building, and the Lawrence Arts Center. The City Commission ultimately set aside the HRC's findings and allowed each of those projects to move forward, just as it did for the proposed Ninth and New Hampshire hotel/retail building.
"Those three projects are standing today, and I think they're good projects," Schumm said.
Schumm went on to say that he has found the HRC to be "extraordinarily strict" and that it becomes "almost impossible" to win approval for a major redevelopment in downtown.
Schumm said he was appointing Rasmussen to the board in hopes of providing a "broader" set of perspectives to the HRC. City commissioners approved the appointment on a 4-0 vote. Commissioner Aron Cromwell was absent from last night's meeting.
It will be interesting to see if this is the end of the criticism of the HRC, or if there is more to come. It should be noted the multistory apartment/office/retail building at the southwest corner of Ninth and New Hampshire went through the HRC process fairly easily. So, it can be done. But the process the hotel/retail project has created concern among some in the development community. So much so, that I do hear people talking occasionally about how the city is not required to have a Historic Resources Commission. The state's historic preservation office can conduct the reviews that currently are conducted by the HRC. But I haven't heard serious discussion from commissioners about disbanding the local HRC. That would be a significant change because it would shift a major part of the city's development process out of Lawrence City Hall and put it in the hands of Topeka bureaucrats.
• While we're on the subject of the Ninth and New Hampshire hotel project, the clock is now ticking on whether neighbors will try to fight that project in Douglas County District Court.
Commissioners at last night's meeting formally adopted a set of written "findings of fact" that spell out why commissioners ruled the project should be allowed to move forward.
Ron Schneider, an attorney for several neighbors who have opposed the project, said his clients now have 30 days to decide whether to file an appeal in Douglas County District Court.
Schneider said he didn't have a sense of whether such an appeal would be forthcoming. Now that the city has put its reasons in writing, Schneider said he can review those findings and gather his clients to find out their wishes.
An appeal will take the opposition to a new level. A fight in Douglas County District Court will take some time and also some financial resources. It never has been entirely clear how many neighbors in East Lawrence have hired Schneider to represent them. When asked how many clients he represents in the matter, Schneider said it would best be described as a "handful."
But Schneider said he also senses the amount of overall opposition to the project in East Lawrence has lessened as developers backed away from an original proposal that would have built the hotel a couple of stories taller than what is now proposed.
"I think there are some who have grown to support the project and others who have decided it is just not worth fighting," Schneider said.
But, of course, it only takes one to file a lawsuit.
Copyright 2018 The Lawrence Journal-World. All rights reserved. This material may not be published, broadcast, rewritten or redistributed. We strive to uphold our values for every story published.