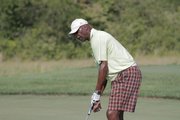 Mayetta — A lot of things have changed in major-league baseball since the days when Frank White and Willie Wilson were helping the Kansas City Royals contend for American League pennants and win the 1985 World Series.
The former Royals greats addressed a few of those differences, including the declining number of African-American players in the major-league ranks, Monday morning at the Rawlings Negro League Gold Glove Celebrity Golf Classic at Firekeeper Golf Course.
A USA Today report earlier this season stated only 8.05 percent of MLB players are black. It's a trend that bothers Wilson, who played for nearly two decades before retiring after the 1994 season, when he was with the Chicago Cubs.
"It's disheartening because of what Jackie Robinson and everybody did to pave the way for us as black Americans," said Wilson, who considers baseball a significant contributing factor in the civil rights movement.
With today's young black athletes, Wilson said, other sports such as football and basketball seem to get more notoriety.
"Baseball's more of a chess game, and a lot of kids don't like to play chess, they like to play checkers," Wilson said. "(Other sports) it's fast-moving, hopping over, and baseball's more of a strategic game."
Plus, Wilson said the ever-increasing access to technology as a form of entertainment keeps youngsters from taking up the game he loved to play.
Of course, as White pointed out, there are other contributing factors. The Kansas City T-Bones' first-base coach pointed to more and more teams opting to scout in other countries, such as the Dominican Republic. And, White said, financial constraints can keep this country's youths from reaching their full potential.
"A lot of African-American kids don't have the ability to get lessons and go to the clubs and play on the traveling teams," White said. "They more or less are learning on the fly."
Also troubled by the declining number of black MLB players was Bob Kendrick, president of the Negro Leagues Baseball Museum. He said the Kansas City, Mo., attraction has a vested interest in being a part of the solution.
"We certainly hope that by getting kids into our museum at an early stage that it introduces them to people who look just like them that played the game as well as anyone ever played this game," Kendrick said prior to the start of the golf tournament, which raised proceeds for the museum.
Many times, Kendrick said, baseball is foreign to young African-Americans.
"What we've found is there are so many kids in the urban core that have never played," he said. "They've never picked up a bat and a glove, let alone know what it feels like to catch a ball, or the feeling you get when you hit the baseball for the very first time."
Regarding the Royals
In Wilson's heyday with the Royals (he played from 1976-90), Kansas City had a relevant baseball team. The franchise soon after fell on hard times and has produced just one winning season since 1994.
"It's tough to watch," Wilson said. "From the players' standpoint, I know they're frustrated."
So, is owner David Glass and the rest of the front office doing everything possible to put a winning product on the field?
"I'm not sitting in their chair, so I wouldn't know. I'm sure in their brains they're thinking they're doing the best they can do, and that's all that really matters. They got the money," Wilson said with a deep laugh.
After years with the organization as a coach and holding other positions, White and the Royals parted ways when his former team fired him as its TV analyst after the 2011 season.
He was asked by the Journal-World if he ever would consider managing the club with which he spent each of his 18 big-league seasons and has his No. 20 jersey retired.
"I would definitely like to talk about it at some point, but with my relationship with the club right now," White said, "I don't really see that being a possibility."
Though he works for the T-Bones, White keeps up with the Royals and said they have a great core of young everyday players.
"The pitching really is dragging behind right now," White said. "If they can do something this offseason to bolster their pitching, I think they'll be in pretty good shape going into next season."
Copyright 2018 The Lawrence Journal-World. All rights reserved. This material may not be published, broadcast, rewritten or redistributed. We strive to uphold our values for every story published.