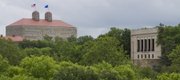 Subscribe to the email edition of Heard on the Hill and we'll deliver you the latest KU news and notes every weekday at noon.
Your daily dose of news, notes and links from around Kansas University.
• Thanks to a tipster who pointed me in the direction of a Wall Street Journal article and associated study that talks about tough times ahead for colleges and college towns across the country.
The article points to heavy spending by colleges and universities leaving many of them with high debt loads.
"Hundreds of schools — including some of the most prestigious institutions in the country — have tightened their belts," wrote reporter Douglas Belkin. "That is bad news not just for the schools and their students but for the communities that depend on them for jobs."
The article cites a report that surveyed 1,692 private and public schools from consulting company Bain & Co. and Sterling Partners.
Here's that report, where you can look up universities of all sorts, including KU.
They look at a couple of different factors, including the school's equity ratio, which is net assets (assets minus liabilities) divided by total assets, and expense ratio, which divides an organization's expenses by its revenues and serves as something of a measure of a business' financial sustainability.
That might sound like a lot of fiscal gobbledygook, but stay with me here. Basically, the trend across the country is that universities are piling on more liabilities, higher debt service and increasing expenses without having the revenue or the cash reserves to back them up.
To look at this, the study examined the change in these ratios at universities from the 2006-2010 fiscal years. Here's some good background on the study.
KU's expense ratio went up by 2 percentage points (which put it right around the 75th percentile for public research universities), according to the study, but its decrease in equity ratio was about 12 percentage points, a worse fate than most universities.
So I chucked these numbers over to the folks in Strong Hall and asked what they meant to them.
And basically, KU is disputing some of the figures in the study.
Jack Martin, a university spokesman, told me that Theresa Gordzica, the university's chief financial officer, was unable to replicate the results found in the study.
According to her calculations, the university's equity ratio was 67 percent in the 2006 fiscal year and 63 percent in the 2010 fiscal year. She said that in the same period, total net assets grew by 17 percent and total assets grew by 26.5 percent, which she said were more meaningful measures than the change in the equity ratio.
"This is not a ratio that we track," Gordzica said. "We are reviewed by Moody's and Standard & Poor's regularly and neither organization has raised this ratio as a cause for concern."
The university's most recent Moody's rating was Aa1 and its most recent S&P; rating was AA.
• The University Daily Kansan reports that a bike rental program scheduled to start this semester has been delayed.
The whole thing is a Student Senate-backed project, and from what I read in the Kansan, it looks like there are still a few kinks to be worked out before the program becomes official.
One possible incarnation would have the program paid for with student funds, and students could swipe their KU ID card to have access to a bike for a day.
I have been around long enough to remember the Yellow Bike program, described a bit here in 2003.
Students who signed up for the program could pick up a bike and leave it on campus (but couldn't take it off campus) when they were done. The program eventually fizzled, if memory serves, because a bunch of bikes were found at the bottom of hills all over campus.
So taking a little extra time to design the right program might be time well spent.
• I bet Moody's rating for Heard on the Hill tipsters would be AAA for the Awesome, Awesome, Awesome stuff they keep sending in to ahyland@ljworld.com.
Copyright 2018 The Lawrence Journal-World. All rights reserved. This material may not be published, broadcast, rewritten or redistributed. We strive to uphold our values for every story published.