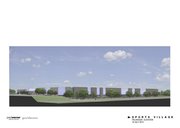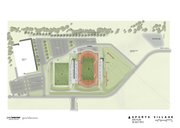 New details — along with a few new financial questions — emerged Monday night about a proposed recreation complex in northwest Lawrence.
City officials told a crowd of about 75 people at a public meeting at Free State High School that preliminary plans show that a recreation complex at the intersection of Sixth Street and the South Lawrence Trafficway could include a 172,000-square-foot fieldhouse with eight high school-sized gymnasiums, a 10,000-seat track and field stadium, and parking for more than 800 vehicles.
"This will name Lawrence as one of the top amateur recreation communities in the U.S.," said Mayor Bob Schumm.
The plans presented Monday night were the most detailed yet but also sparked questions about whether Kansas University is making a large enough financial contribution to the project.
The draft plans, which have been developed by Lawrence-based Paul Werner Architects and GouldEvans architects, show KU would have a 10,000-seat track and field stadium, a 2,000-seat soccer field, a press box, concessions area and a locker room facility on the 50-acre site that is expected to be donated to the city by a group led by Lawrence businessmen Duane and Steve Schwada.
KU and its donors will pay for the construction and maintenance costs of the facilities, but City Manager David Corliss said KU is not expected to make any sort of lease payment to the city for use of the ground. KU also is not expected to pay any of the costs related to extending infrastructure to the site, which is at the northwest corner of Sixth Street and the South Lawrence Trafficway.
Corliss also said it is not anticipated that the general public will have access to the KU outdoor facilities, such as to use the track for walking or jogging.
But city officials said they are confident KU's involvement in the project will greatly enhance the overall benefit to the community by creating a synergy that wouldn't exist if the city were simply building a stand-alone recreation center.
"The city may be providing some infrastructure," said Jana Dawson, a member of the city's Parks and Recreation Advisory Board. "But KU will be providing a lot of people, and that is what will create the economic development benefits for the community."
Elite group
Audience members also were told the KU track and field stadium is expected to put Lawrence in the running to host the NCAA National Track and Field Championships, the Big 12 Conference Track and Field Championships and several other national-level meets. That's in part because the KU facility would become only the sixth track in the U.S. ranked as a class one facility by IAAF, the world governing body for track and field.
"With our location, it will be one of the most desirable tracks in the country," Sean Lester, an associate athletic director for KU, told the crowd. "And these events attract thousands of people, not hundreds."
City officials also provided more details about the proposed 172,000-square-foot recreation center/fieldhouse that would be owned and operated by the city. Those details included:
• The fieldhouse portion of the building will include eight 84-by-50-foot basketball courts. Those eight full courts can be converted into 16 smaller courts. The courts will be designed to accommodate both basketball and volleyball. The fieldhouse could accommodate about 1,900 spectators with roll-out bleachers, but additional spectators could watch from a mezzanine level.
• A 5,000-square-foot gymnastics area with an overhead spectator viewing area is included in the plans.
• Lawrence Memorial Hospital continues to explore the possibility of locating a wellness center at the facility.
• An approximately 12,000-square-foot multipurpose area could include an area for uses such as basketball, batting cages and an indoor turf area.
• A 12-foot-wide, 1/8th of a mile track would be built on a mezzanine level.
• The building also would include a fitness/weight room, a dance/aerobics area, locker rooms, three party rental rooms and a concessions area.
Public use
City officials said the facility is being designed so that it can be used by both the general public and tournament crowds at the same time. Corliss said areas such as the fitness areas, walking track and multipurpose area always would be open to the general public, even if a major tournament is being hosted at the facility.
Corliss also detailed how city money from its share of the countywide one-cent sales tax could be used to pay for the facility. Plans still call for the city to execute a lease purchase agreement with a nonprofit foundation run by Lawrence businessman Thomas Fritzel and his family. The city would pay the foundation $1.2 million a year for 20 years, for a total of $24 million. After the 20-year period, the city would own the building.
But some members of the public said they still wanted to see more detail about how this project fits in with other city priorities, such as a new police headquarters building, a new sewage treatment plant, and whether a possible decline in state revenues could affect the city's finances.
City commissioners are expected to discuss the project at their Aug. 7 City Commission meeting, and will seek public comment on the proposal at that time.
Copyright 2018 The Lawrence Journal-World. All rights reserved. This material may not be published, broadcast, rewritten or redistributed. We strive to uphold our values for every story published.