For 15-year-old Jordan Avery, building a bench wasn't just a summer activity that taught on-the-job skills.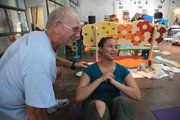 "Van Go saved my life," he said.
Avery participated in Van Go Inc.'s Summer Benchmark project, a jobs training program for 22 kids ages 14-18. They work for 31 days to build $900 benches commissioned by businesses and private individuals. The students create blueprints, then build and decorate the benches.
At the unveiling ceremony Friday afternoon, students had a chance to see their hard work pay off. A drum rolled as all 22 lined up with their patrons to pull drop cloths off their creations.
Avery, whose bench was commissioned by Hilda Enoch for Babcock Place, said the project helped him to "lift away" some of his emotional issues. "I realized how important I am and that I bring something to the world," he said. "Once I realized that. I knew I couldn't do it (commit suicide)."
The bench project also helped out some of the donors. Bob Beebe, or Santa Bob, who has been playing Santa around town for 30 years, said it allowed him to give back to Kansas University's Schiefelbusch Speech-Language-Hearing Clinic, where he spent time in rehabilitation after suffering a brain injury 12 years ago. He noticed the clinic needed a bench, so he donated all of his yearly Santa earnings to Van Go and with the help of other donors paid for a bench to put in front of the center.
"Seeing it brought tears to my eyes," he said.
The program is in its 15th year. There are currently 250 Van Go benches around Lawrence.
Copyright 2018 The Lawrence Journal-World. All rights reserved. This material may not be published, broadcast, rewritten or redistributed. We strive to uphold our values for every story published.