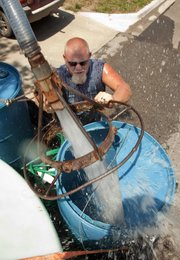 When Elaine Brewer woke up Thursday morning, she thought she had dreamed about rain. Moisture on her flower garden proved otherwise.
"I thought I was hallucinating," she said. "I was happy for some free water from the sky."
Lawrence Municipal Airport reported that 0.53 inches of rain fell early Thursday morning. For Brewer it meant a break from the two to three hours of hand watering flowers. For Lawrence, it meant a brief respite from a bitterly hot summer.
But in the larger picture, the half-inch of rain did little to break the drought. Lawrence remains seven inches below average, having received 14.28 inches of rainfall since Jan. 1, two-thirds of its normal amount.
And there's no end in sight. Forecasters project a week of 100-plus degree temperatures and only a small chance of rain.
According to Kris Sanders of the National Weather Service in Topeka, it hasn't been this hot or dry since 1934 and 1936.
"We are getting Dust Bowl-era numbers," Sanders said.
To deal with this drought, the city of Lawrence has issued a statement asking residents to conserve water.
"The extreme heat and drought conditions we are experiencing should remind us to consider all water use wisely," City Manager David Corliss said. Corliss added that Lawrence water was in no danger of running out — the Kansas River and Clinton reservoir both feed the city — but residents should take precautions nonetheless.
Pete Goans is one area resident taking water precautions. Goans works at the Heart of America Teen Challenge house, 1332 E. 1600 Road. The house as well as its okra field draw water from an on-property well. To avoid running the well dry, Goans buys 500 gallons from the city of Lawrence daily to water his fields. The water is cheap, 25 cents for 500 gallons, but the 45-minute trip and gasoline are not.
"It's been so dry this year," he said. "It was either that or we wouldn't have a crop at all."
The weather has made life difficult across the state. Homeowners have higher electric and water bills. The area's corn crop is all but lost. Soybeans will follow if the dry heat keeps up.

"If you got 0.7 (inches of rain) it might have bought you a few days," Matthew Vajnar, grain merchandiser at Ottawa Co-op, said on Thursday. "But with the 105 degrees forecasted today and the rest of the week, it will be too little too late."
If the drought doesn't break, some farmers might want to find a different profession, such as well-drilling, or foundation repair.
Kent Fry, owner of Concrete Rescue Foundation, said since the drought began his business has increased five-fold. He said the dryness of the last two years has caused the clay soil under many area houses to compact unevenly, cracking foundations and making his services necessary.
Tom Patchen, whose business, Patchen Electric, digs and services wells, said he hasn't been this busy in his nearly 30 years of working with wells.
"Most of it's service calls," he said adding that calls to drill new wells have also been up. "People are just maxing out their pumps and everything."
Copyright 2018 The Lawrence Journal-World. All rights reserved. This material may not be published, broadcast, rewritten or redistributed. We strive to uphold our values for every story published.