Here's what we know.
Wednesday's high temperature, as thousands scoured sale items at the Downtown Lawrence Sidewalk Sale, was over 100 degrees. But with stores slicing prices by as much as 75 percent, the heat was just one more obstacle on the way to huge sales.
The temperatures kept some shoppers away, store owners said.
Photo Gallery
Sidewalk Sale
Crowds were out before 5 a.m. to shop for bargains during the annual Downtown Lawrence Sidewalk Sale Thursday, July 19, 2012.
Dave Seal, owner of Framewoods, 819 Mass., has participated in the sidewalk sale for more than 20 years. He said his shop usually opens at 9 a.m. but opened at 7 a.m. this year because they knew it was going to be an exceedingly hot day.
Business was OK in those early hours, he said, but overall it was decidedly down from previous sales.
"It isn't a banner year," Seal said. "I think the heat caused part of that. And probably the economy, but you can't ever guess about that."
Here at the Journal-World, we knew people would be looking for deals. We knew it was hot. We knew it was competitive. You know that, too. So we asked five staffers and freelancers to participate in a $20 challenge. Basically, how much can you get with a twenty in your pocket?
Our participants: Go! Editor Katie Bean, fashion writer Ali Edwards, Pulse editor Jon Ralston, features reporter Sara Shepherd and music writer Nick Spacek.
Katie Bean: Shopping for sport
Katie drew the difficult assignment of shopping for sporting and outdoor goods, an Olympic-sized challenge on a $20 budget.
After a scouting run in the morning, I headed back out shopping after lunch.
With only $20, I wasn't sure I could get much in the way of sporting goods, so I was glad I had looked around.
Here's what I ended up with:
• Pink sweatband and red and white star bandana, $5, MissFortune's Creation Station. The bandana satisfies my search for something patriotic to wear during the Olympics.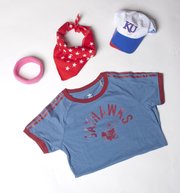 • Kansas University shirt for $10 at Jock's Nitch.
At this point, I didn't think I could find anything else for just $5, so I bought a $10 long-sleeved T-shirt at Sunflower Bike and Outdoors. I also picked up $6 bike gloves for a friend there, but they didn't have any in my size for that cheap.
But on my way back to work, I decided I to stay true to the $20 budget and picked one more thing, so I'm not counting the aforementioned T-shirt and bike gloves.
• KU hat, $5, Lids. I spied a Kansas State University hat hidden on the $5 rack, if you're into that sort of thing.
So, in total, I spent $20.39 (with tax) for my work challenge, but with some bike shorts and tea I purchased in the morning plus the extra T-shirt and gloves, I spent about $100 of my own money, most of which I would have spent sometime in the near future if not today
Today's sales, combined with my previous experiences, reinforced that the most plentiful deals at the sidewalk sale are usually on apparel and accessories, and that goes for athletics-related searches as well.
Bottom line: 39 cents over budget
Ali Edwards: Thrifty fashion
Ali — a self-described sidewalk sale newbie — wanted to find a pair of shoes, an accessory and part of an outfit (pants, skirt, shorts or a shirt). She was up bright and early. Did it pay off?
At 5:30 this morning, my best friend and I walked a bit bleary-eyed into The Gap, which was bumping the Black Eyed Peas over the intercom. Ladies, fresh out of bed and on their first cups of coffee, shook their hips side-to-side and nodded their heads while shuffling through rack upon rack of discounted clothes.
We buzzed through the store quickly with wandering ewyes to see if anything immediately jumped out as a "must have." They had some cool shoes on sale for $10, but this was my first stop! I couldn't snatch this deal yet.
We made our way down the street and stopped at Miss Fortune's Creation Station, Sunflower Outdoor and Bike (friend bought some hiking boots for 30 percent off), Brown's Shoe Store, Sharks, Third Planet, Arizona Trading Company, Urban Outfitters and Kieu's.
Urban Outfitters takes the cake for most dedicated shoppers. There was no way I was going to wait in an hour-long line to pay.
Kieu's was our final stop, and there I found both of my treasures: some tight red pants and a green/blue color-blocked tank. Both items were $9.99, so with tax, I ended up spending $21 and some change.
Bottom line: $1 over budget
Jon Ralston: Keeping Lawrence weird
Last year, Jon bought a talking Snooki bobblehead doll ("I'm not trashy... unless I drink too much," is just one catch phrase) for $1.50. Inspired by this find, he sought out the weirdest items for sale downtown.
Sidewalk Sale day has gradually become one of my favorite days of the year since I moved to Lawrence full-time nearly six years ago. I live downtown, so whenever there's a major event (4th of July, KU Final Four celebrations, etc.) I feel like I have a home-field advantage as it's all happening literally around the corner from my apartment. I never have to worry about parking, and I never have an excuse not to check this stuff out.
Coming off an all-nighter at work and fueled by Red Bull, I set out Thursday morning at sunrise on my mission to find the most unusual Sidewalk Sale items out there. I started at Urban Outfitters, expecting a massive line inside and out and that's what I found. I spent a few minutes checking out their selection of tank tops and mugs that have instructions about how to do the robot.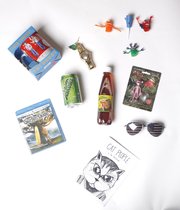 I headed down Mass. and stopped at Game Nut, with its usual tables of hundreds of used DVDs and video games. For some reason, a (brand new!) Blu-Ray of a Matthew McConaughey movie I've never heard of called "Surfer, Dude" stood out. It looked awful. I had to have it. I'm still trying to wrap my head around the tag line: "Love and waves, that's what we need in these dark days." Three dollars spent on my first bizarre purchase.
A bowl full of monster, zombie and narwhal finger puppets caught my eye at Miss Fortune's Creation Station. Only 50 cents each. I bought four and have some tiny new friends. Good to see narwhals getting some representation in Lawrence.
Hobbs was my last stop of the morning, where there was a whole table of cheesy Christmas ornaments — a goldmine for anyone who celebrates Christmas in July, I suppose. I settled on a blingy gold watch ornament and Pink Panther ornament for a total of $3.27. They will go great with my Charlie Brown Christmas tree come holiday season.
After taking a break to get out of the heat, I came across a booth outside of Wonder Fair, which had some locally made, hand-drawn comics. I thought my collection of purchases could use some reading material, so I picked up a hilarious comic called "Cat People" for $1.84. Well worth it.
With the heat being so sweltering, next thing I targeted was some kind of refreshment. I thought Cosmos, the new Indian goods store new to downtown, would have an unusual selection. I got a spice soda and a can of an ice cream flavored soda that sounded ... interesting. Cost: $2.
My last stop of the day was to be Urban Outfitters, which also happened to be my first stop over 12 hours earlier. No lines this time, so I got to sort through the bins of sale items earlier shoppers left behind. I picked up the mug I had my eye on earlier that you not only drink from but that teaches you how to do the robot. Cost: $3.49. With the sun setting and already having a good-sized haul, I was still over $4 short of my $20 budget. I had seen a pair of aviator sunglasses with American flag lenses at Urban earlier that were $14. They would kill my budget but were tacky enough to be perfect for this project, so I had to have them. I decided to pay the difference out of my own pocket.
If I learned anything, it's that it's hard to spend $20 on cheap, weird stuff that nobody wants. But it's a fun challenge I'd love to take up again next year.
Bottom line: $29.60 ($15.60 without sunglasses).
Sara Shepherd: Tasteful accents
Sara's goal was to find home furnishings that wouldn't break the bank. And she has a thing against knick-knacks, adding to the challenge.
Knick-knacks sort of annoy me, and I'm not sure anything I really need right now (large bookcase, area rug, authentic mid-century modern accent chair ... wait, did I say need?) can be had for $20, even at the sidewalk sale, so the plan was to be on the lookout for useful items or accents. Maybe a cute vase, throw pillow, wall art — I hoped I'd know it when I saw it.
If you're in the market for statement stuff rather than odds and ends like candles or paper coasters, $20 won't get you a lot of home decor items, or anything really big. But I did find a handful of tempting things yesterday — and the two I bought (for a total of $28, oops) are unique.
• Thing 1: An 8-by-10 Leah Duncan print from Wonder Fair. At 40 percent off, it was $12 plus tax. I like it because it's a little bit Western but also a little bit weird. Duncan is an Austin-based illustrator and textile designer.
• Thing 2: A vintage floral tablecloth — red, green, pale yellow and gray, 1940s-ish — at Blackbird Trading Post. At 20 percent off, I paid $16 plus tax. I have a small collection of these I never use, so naturally I figured I should buy another one.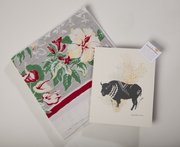 A few more household caught my eye, but didn't make the final cut:
• $12 bar tool set at Sweet. But last time I found myself in want of a bar tool, it was a zester. This set didn't include one, so I left it there.
• Celadon-colored ceramic bowl at Phoenix gallery for $14. If it had been a vase (useful) or a larger (more color), I would have taken it home.
• Pink McCoy pottery vase with a bird on it. Also vintage. Only $15 at Blackbird. So cute! So something I don't know what I'd do with!
Bottom line: $8 over budget
Nick Spacek: Budget-busting vinyl
Nick knew it would be tough to balance a $20 budget against the myriad musical options on sale. Turns out, he found more to buy than just records.
While I wasn't able to be out and among the throng at first light, I managed to steal off to Urban Outfitters at 8 a.m. I wanted to get in before the 50 percent-off sale ended at 10, and also snag some vinyl before the sun warped it beyond playability. For the princely sum of $16.23, I walked off with LPs by the Phracyde, the Big Pink and Thurston Moore. My budget was strained due to assuming everything was the same price.
As I sat sipping a chocolate martini at the Bourgeois Pig, reflecting on the day, I came up with a few hints to share.
The DVD selection at Liberty Hall was far smaller than that at Game Nut, but priced the same and of much higher quality. They were also witty conversationalists. Their sale caused me to go over-budget by $1, but when you're getting "Black Dynamite" for $3, budget be damned.
I opted for a quick, easy and novel lunch: two samosas and an imported soda from the Cosmos Indian Store next to Arizona Trading Company. Two samosas for $1.99, and a Thums Up cola — a spiced soda, or something that supposedly tastes like ice cream — for a buck. The chutney that comes with your samosas is pretty deliciously spicy.
Bottom line: $1 over budget
So we didn't break the bank, answering our question of whether you could get by on just $20 with so many tantalizing sales. But another question was raised on a day that was just plain nasty.
"The only thing shocking is that we're still doing this in July," said Maggie Allen, video store manager at Liberty Hall. "There are a number of other months that would be great for the sidewalk sale; this isn't one of them."
Copyright 2018 The Lawrence Journal-World. All rights reserved. This material may not be published, broadcast, rewritten or redistributed. We strive to uphold our values for every story published.