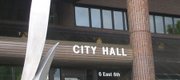 Subscribe to the email edition of Town Talk and we'll deliver you the latest city news and notes every weekday at noon.
News and notes from around town:
• There is much you can see today from Downtown Lawrence's Sidewalk Sale — a man barking atop a ladder at Sunflower Outdoor & Bike, classic T-shirts from Ernst & Son Hardware that are so hip they make an M.C. Hammer reference, people trying to fry eggs on the sidewalk (hopefully they're not from Milton's or some other place that serves breakfast downtown), and of course, my wife and mother-in-law navigating their U-Hauls through the crowd.
But what you won't see is a Chipotle-style Indian restaurant in the 900 block of Massachusetts Street. But give it time.
The tip we passed along last week that an Indian restaurant was set to go into the vacant building at 918 Mass. was a good one. Lawrence resident Rasesh Patel confirmed to me that he has signed a deal to open up an as-yet-unnamed Indian restaurant in the building, which used to house the funky gift shop Beyond the Door.
Patel, though, said his Indian restaurant may be a bit different from what Lawrence residents have come to expect. For one, it won't be a buffet. Instead, he said it will be a fast-casual concept, which led him to call it kind of like Chipotle but for Indian food.
"I have done a lot of research and this is the new phase Indian restaurants are headed," Patel said. "It is not so much the buffet for lunch anymore."
The menu will have a large offering of both vegetarian and non-vegetarian items, and also will include several daily specials and seasonal dishes.
Patel also said his restaurant will have a greater emphasis on bar and liquor service than many other Indian restaurants. The establishment will have a full bar featuring both American and Indian offerings. He said he's currently working with liquor distributors to try to get about eight different Indian beers to offer, including Haywards 5000, Taj Mahal, and Kingfisher. (Who said it was too hot to fish? I think I'll tell my wife I'm going Kingfishing tonight.)
Look for the restaurant to open by the first week of September.
• If you like to keep up on the downtown real estate scene, it appears the building at 918 Mass. has sold, and that the son of a longtime Lawrence landlord is involved with the purchase. Yuba City LLC has purchased the building from Baldwin-based Norris Holding, LC. Yuba City's resident agent, according to secretary of state filings is Dalton Paley, who I believe is the son of longtime and prominent downtown Lawrence landlords George and Judy Paley. So something to keep an eye on. Perhaps a second generation of Paleys downtown has begun.
• If you like to keep up with former city commissioners, then you might be interested to know former city commissioner Boog Highberger is now a downtown business owner.
Highberger and Jennifer Ananda have formed the law practice Highberger & Ananda. It has its offices located on the second floor space at 918 Mass. (Yes, somehow 918 Mass. has become the center of the Town Talk universe today.)
Highberger tells me the practice will have a general civil and criminal practice. Highberger, who most recently was an attorney for the Kansas Department of Health and Environment, will concentrate on the civil side. Ananda, who is a 2010 graduate of the KU law school and a trained social worker, will focus on the criminal side of the practice.
Highberger said one of the unique parts about the practice is that it has a sliding fee scale that should be a benefit to lower income clients, although Highberger was quick to point out that the practice is not trying to focus exclusively on low income clients.
"But I do think there is a gap out there in terms people who make too much to qualify for legal assistance but don't make enough to really hire an attorney," Highberger said.
• Let's go ahead and keep this an all-downtown Town Talk in honor of the Downtown Businesses Draining My Bank Account Day — um, I mean, the Downtown Sidewalk Sale.
In the coming months, nothing will be a bigger topic than the Lawrence Public Library. I sat down for a little more than an hour with new library director Brad Allen for a profile that will appear in the Journal-World soon.
But I thought I would pass along the latest news on the idea of temporarily moving the Lawrence Public Library to a new location while workers undertake a $19 million expansion.
Allen told me he thinks it would be a wise move. Otherwise patrons of the library are going to be asked to put up with nearly constant change during what could be a two-construction period for the library. Plus, for a good portion of the project, parking next to the library will be next to non-existent as crews build a new parking garage on the current lot that serves the library.
I believe City Manager David Corliss also is a fan of moving the library to a new location during construction. Those are two important people to have on board with the idea, yet I didn't get the impression that a move is a done deal yet.
Allen indicated money to pay for a move was still a concern. The city has hoped that temporally vacating the library building would speed the construction process and save some money. But I'm not sure the city has yet seen just yet what those cost savings will be. It sounds like the city needs those cost savings to be pretty significant in order to pay for a lease and moving expenses to a new location. We'll see how that pencils out, but I would expect news on this sooner rather than later.
Also of interest is that Allen told me that he thinks a move to a new location probably ought to be in the downtown area. Unless I'm underestimating the amount of space the library will need, it appears there would be two leading candidates to land the library — the former Borders building and space in the former Riverfront Mall. (Full disclosure: Members of The World Company, which own LJWorld.com, have an ownership interest in the Riverfront space.)
Anyway, enough talk about downtown. It is time for me to begin roaming the streets, going from vendor to vendor, in search of … the crumbs of my financial portfolio that my wife leaves behind.
Copyright 2018 The Lawrence Journal-World. All rights reserved. This material may not be published, broadcast, rewritten or redistributed. We strive to uphold our values for every story published.