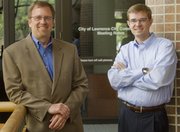 Something interesting happened at Lawrence City Hall when commissioners at a meeting last month asked for public comment about a controversial proposal to build a multistory hotel and retail building at Ninth and New Hampshire streets.
Despite bitter opposition from the East Lawrence Neighborhood Association, more people stepped to the lectern to speak in favor of the project than against it.
Such a public show of support didn't happen by accident. About a dozen Lawrence residents who believe Lawrence needs a more positive voice when it comes to growth and economic development have formed CadreLawrence. The group began to quietly reach out to members of the public before last month's vote on the Ninth and New Hampshire project, and presented what group members believed were the community benefits of the hotel/retail proposal.
But Zak Bolick, one of the founders of the group, said the most important thing group members did is urge people to show up. They reminded folks that a City Commission lectern isn't just for people who oppose a project.
"Several of us have been asking ourselves for a while what has happened to the part of the population that does not have a vested interest in a project but still thinks it is a good project for the community?" said Bolick, who is an assistant vice president for Douglas County Bank. "I know those people exist."
For several years, it was common to hear some community leaders refer to that segment of the population as "the silent majority" because they often didn't show up at meetings to express their support for projects, especially development or growth-related projects that produced vocal opposition from neighborhoods or other groups in the community.
The result, CadreLawrence members say, is that public meetings about growth and development projects often have taken on a more negative tone than actually exists in the broader community. They say that has led to businesses becoming wary of pursuing projects in Lawrence.
"We have kept hearing from people outside of this community that there is a pretty negative perception about how hard it is to do business here," said Gary Rexroad, another founder of the group, who was a classmate of Bolick's in the Leadership Lawrence program.

In March, Bolick and Rexroad, who is an area manager for the Microsoft Corp., came together and started formulating the idea of CadreLawrence. Today the organization has an 11-member board that meets monthly to stay abreast of current issues related to jobs, economic development and growth. Within the next few days, the group plans to ramp up its public outreach efforts. It is finalizing a Facebook page, a Twitter presence and a website at cadrelawrence.com.
Part of the outreach, Rexroad said, will involve educating community members about how the group works. There are no membership fees or requirements. The group also won't endorse or donate to any political candidates. Unlike neighborhood associations, the League of Women Voters or the Lawrence Chamber of Commerce, CadreLawrence won't take official positions on any issues. Rexroad said the purpose of the organization isn't to create a new group that can throw its weight behind a proposal or project.
"We just want to get people informed and active," Rexroad said.
At the meeting regarding the Ninth and New Hampshire project, for example, none of the group members even mentioned CadreLawrence when they addressed the commission. Instead, they simply described themselves as Lawrence residents who didn't have a vested interest in the project but believed it would be good for the community.
That's what group leaders hope will happen more often.
"If we can get people to be more active, we think that ultimately will produce a more fair and balanced debate," Bolick said.
Group leaders also are stressing the organization is independent of the Lawrence Chamber of Commerce, which often does speak on behalf of growth and economic development projects. Rexroad said CadreLawrence leaders understand the chamber's involvement in an issue automatically can spark opposition from some residents.

CadreLawrence's board includes both chamber and nonchamber members, but Rexroad said the group does not take any direction from the chamber. In addition to Bolick and Rexroad, CadreLawrence's board includes area bankers Brian Iverson and Michelle Fales, architects Paul Werner and Andrew Pitts, former Lawrence-Douglas County planning commissioners Brad Finkeldei and Stanley Rasmussen, area food bank director Jeremy Farmer, and residents Alex Delaney and Tim Bateman.
Rexroad said he thinks the timing is right for the group to catch the attention of Lawrence residents.
"I might be a little naive, but I think the community is ready for this," Rexroad said. "I think the people of Lawrence want to be positive. They are hungry to be positive."
Copyright 2018 The Lawrence Journal-World. All rights reserved. This material may not be published, broadcast, rewritten or redistributed. We strive to uphold our values for every story published.