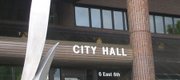 Subscribe to the email edition of Town Talk and we'll deliver you the latest city news and notes every weekday at noon.
News and notes from around town:
• Well, the speculation we reported yesterday that Dillons hopes to open its new store near 17th and Mass. by mid-August appears to be correct.
But here's a twist for you: The store is requesting to use a grassy lot along New Hampshire for "overflow parking" for the first couple of weeks of the store's operations.
Dillons has filed for a special event permit at City Hall related to its grand opening of the new store. The permit lists the dates as Aug. 12 through Aug. 26 (Note:This is different than what we reported earlier. Dillons submitted a revised requests with new dates.) But the store also is seeking city approval to use the vacant lot that currently is just east of the Kwik Shop store at 19th and Mass. The grassy lot would be used to park employee and vendor vehicles during the first couple of weeks of the store's opening.
According to the city planner who is reviewing the application, Dillons intends for the overflow parking strictly to be a temporary matter. The company is planning to overstock the store with staff members during the grand opening period, and several vendors are expected to be on site as well. The larger-than-usual number of employees that will be at the store created concern that there wouldn't be enough room for customers to park in the main lot.
As we noted yesterday, Dillons did receive a city variance to have a smaller than normal parking lot for its new store. The city allowed the lot to be about 20 spaces smaller than what city code called for.
Neighbors who live near the empty lot at the corner of 19th and New Hampshire may want to get used to more activity there anyway. Kwik Shop, which is owned by Dillons, has filed plans at City Hall to build a larger convenience store at 19th and Mass. Much of the new store would extend eastward toward New Hampshire Street onto the empty lot. Plans for that larger Kwik Shop are still under review at City Hall.
As for the special event permit, city commissioners will have to approve the idea of overflow parking. That issue could be heard by the commission as soon as next week.
• Perhaps it is all this talk of parking a vehicle in a grassy lot, but my Bubba radar is starting to chirp. Or perhaps it is this awe-inspiring combination: a pawn shop next to a barbecue joint.
Yes indeed, such sweet synergy is coming to South Iowa Street. Former Jayhawk Pawn and Jewelry employee Jeff Neal has filed the necessary paperwork to open Sunflower Pawn and Jewelry at 2429 Iowa. That will put the store next to Biggs BBQ.
My understanding is Neal is finishing some interior work on the store and will open soon. But Neal didn't want to provide any other details about the store at the moment.
The pawn business is an interesting one to follow right now. There are plenty of people in need of some quick cash, and gold jewelry — long a staple of pawn shops — has exploded in value. Heck, for that matter, firearms — another frequent pawn item — have done pretty well too. Whatever it is, business appears to be good in Lawrence. Jayhawk Pawn and Jewelry, as we previously reported, undertook a major expansion of its shop at 1804 W. Sixth St.
As for the new business on South Iowa Street, I'll have to check it out. Just think: Peruse used tools, firearms and guitars, then take a few steps down the shopping center and get filled up on pulled pork and baked beans. If that doesn't sound like a date night, I don't know what does.
• You know what will start showing up in pawn shops here in another month or so? Partially used swallowing swords. It seems like they always start to show up shortly after the Busker Fest has left downtown Lawrence. I guess some folks find that, although it is definitely a hobby with a point, it just isn't quite right for them.
All this is to say that the Busker Fest indeed is coming back to downtown Lawrence for its fifth year. The event is set for Aug. 24 through Aug. 26. It looks like there will be five stages up and running during most of the three-day event, which attracts a host of unique street performers to downtown.
This year it looks like there will be, among others, some aerial artists, fire dancers, jugglers, contortionists and a performer who produces something called "human organic music."
City commissioners at their meeting this afternoon (special start time of 3 p.m.) are scheduled to approve the closure of the 100 blocks of East Eighth Street and East 10th Street for stage areas, and also the sidewalk area and parking stalls in front of the U.S. Bank Tower at 900 Mass.
I'm not sure the Buskers will even make a presentation at today's City Commission meeting, but I'll be there, and — trust me — I'll be keeping an ear out for "human organic music."
Copyright 2018 The Lawrence Journal-World. All rights reserved. This material may not be published, broadcast, rewritten or redistributed. We strive to uphold our values for every story published.