A 23-year-old Overland Park man who faces an involuntary manslaughter charge related to a 2010 crash in west Lawrence was brought to the Douglas County Jail on Tuesday.
According to Douglas County Jail records, Sean Barrett Walker was booked about 11:30 a.m. Prosecutors had filed the charge against Walker late last year, but he had been in prison serving a sentence on an unrelated probation violation in a 2006 Johnson County attempted robbery and battery case.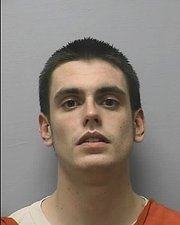 Douglas County District Attorney Charles Branson said prosecutors issued a warrant in December charging Walker with involuntary manslaughter while driving under the influence of alcohol, plus two traffic infractions: speeding and violating flashing traffic signals.
Prosecutors accuse Walker of driving drunk early on Oct. 14, 2010, while heading west on Clinton Parkway and striking a southbound car driven by Mary Grace Paez, 19, of Lawrence. Paez died at the scene, and according to a police report, Walker's blood-alcohol content after the crash was 0.23, nearly three times the state's legal limit.
Paez's toxicology test in her autopsy was negative for alcohol or drugs. The report also said Walker was driving at least 11 mph faster than the 45 mph speed limit while Paez was traveling 13 mph in a 30 mph zone.
Cheryl Wright, a spokeswoman for Branson's office, said Wednesday morning Walker will appear before a judge at an afternoon hearing.
Copyright 2018 The Lawrence Journal-World. All rights reserved. This material may not be published, broadcast, rewritten or redistributed. We strive to uphold our values for every story published.