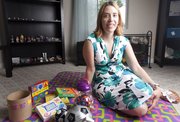 The office of Sarah Minges is filled with stuffed animals and toys. Her bookshelves are lined with sand-tray figurines and children's books.
But for Minges' line of work, these items aren't for fun or decoration — they're necessities in helping her patients.
Minges is the founder of Playful Awareness LLC, 4105 W Sixth St. She is a licensed professional counselor, a registered play therapist and specializes in play therapy, a technique that uses the integration of play and creative expression as part of the therapy process to help patients work through emotional issues.
"Play therapy is not all fun and games," Minges said. "It allows me and clients to find a different way to resolve things and get out of their head, so to speak."
Minges' patients are both children and adults, and her treatments span a wide spectrum of mental health issues, but Minges is especially passionate about one specific condition: sensory integration disorder.
Sensory integration disorder, or SID, causes the brain and nervous system to inaccurately process information. This means the patient's senses are not properly responding to their surroundings.
For example, if an SID patient's auditory input is hypersensitive, it could mean that certain noises bother the patient to a point that he alters his lifestyle to avoid that specific noise. If the patient's taste input is hypersensitive, he may avoid eating certain foods based on the texture of that food in the patient's mouth.
"A lot of people have irritabilities or such an impairment that it makes daily life and activities extremely difficult," Minges said.
When a patient has SID, many times Minges works with Audrey Welch, a physical therapist at TherapyWorks, 1311 Wakarusa Drive.
SID is a medical condition, so a patient must receive physical therapy to treat the disorder. Play therapy helps to reinforce treatment the patient is receiving through physical therapy.
In the state of Kansas, in order to see and treat a patient for physical therapy services, the patient must have a written prescription for therapy from his or her doctor. Technically, SID isn't a diagnosis, so a doctor cannot send a patient to therapy for it.
However, there are other diagnoses where SID could be part of the patient's problem. Many patients with autism, attention deficit disorder or developmental coordination disorder have underlying SID. So if the physical therapist is treating a patient for a separate disorder, the therapist can also address the SID during therapy.
"All around, you get a much more stable, emotionally well person who is aware of their sensory integration disorder and now knows how to treat it," Welch said.
Treatment for SID includes an evaluation, finding the sensory deficits and then starting a home exercise program that integrates emphasis on certain activities during daily life.
When treating children, it can be especially difficult to create an exercise program the child will actually follow.
That's where play therapy comes in.
"It can't just be tell the (child) an exercise; it's got to be all about play and fun," Welch said.
Because SID is not an actual diagnosis, it isn't as well-known as other disorders. Playful Awareness and TherapyWorks are combining to raise awareness about the disorder in the community.
"People have these problems, but they don't know there are treatments for it," Welch said.
Together Minges and Welch are hosting a free presentation to teach parents, professionals and members of the Lawrence community about what SID is and how to treat the condition.
"Our hope is to educate not just parents, but any professionals attending so the professionals can then educate their patients," Minges said.
The presentation is from 7 p.m. to 8:15 p.m. July 19 at TherapyWorks.
Copyright 2018 The Lawrence Journal-World. All rights reserved. This material may not be published, broadcast, rewritten or redistributed. We strive to uphold our values for every story published.