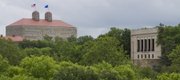 Subscribe to the email edition of Heard on the Hill and we'll deliver you the latest KU news and notes every weekday at noon.
Your daily dose of news, notes and links from around Kansas University.
• The case of mechanical engineering professor Albert Romkes and his long tenure fight against the university went national this week, as the Chronicle of Higher Education wrote this lengthy article about the case (though you'll need a subscription to read it).
The newspaper didn't spend a whole lot of time sorting out the merits of the case (which we've covered as well), but did remark on just how unusual this case was in the amount of public discourse generated by Romkes and his supporters in what's normally a process that's very private.
There were at least two full-page ads in the Journal-World newspaper, brochures distributed to students and faculty, and an extensive website devoted to his cause.
I've spent a lot of time looking through the available record on this case, and I think reasonable people can disagree on whether his research record was good enough to merit tenure. I don't think his research record is a slam-dunk either way, though I've heard from people on both sides of the argument claiming it was. His proponents have been very vocal about their case, and I'd encourage you to visit the website if you're unfamiliar with their arguments. His opponents at the university have been less vocal, but have raised some good points to me in private.
Though he alleges discrimination based on his homosexuality, he didn't raise that point in his court filing, and the university denies it discriminates. Though I think it's worth pointing out that for this to be true, multiple layers of the university's tenure review process would have to be in on it, including an entire promotion and tenure committee, a dean, the provost and the chancellor, who all made independent decisions to deny Romkes tenure, even though a department-level committee recommended he be awarded it.
The article also provided an update on Romkes — his last day at KU was May 16, and he since returned to his native Holland, where he married his longtime partner.
He thinks his very public fight will likely cost him in his future job search.
A district court judge is also reviewing the case, though it's likely a long shot that he'll overturn the university's decision.
• I don't know if we'll ever have a really solid answer on whether or not Romkes' research record was truly good enough to merit tenure or if he received different treatment from others in his situation, but I do think we can draw a couple of conclusions from this whole affair.
First, I think we can now safely even stop pretending that teaching has anything to do with granting tenure. Maybe we stopped doing that a long time ago, but I think this case highlights that more than any others I've seen. I've not heard anyone say that Romkes was anything but an excellent teacher. He won teaching awards, and inspired a whole bunch of students to rally to his cause.
But in a case where we had a professor with a borderline research profile, and an excellent teaching profile, the research won out.
Second, I think that these aggressive tactics from Romkes (and more to the point, his supporters, whom I believe acted without Romkes' direct involvement in many cases) ultimately didn't do him any favors.
This was particularly true in university governance, an arena where Romkes and his folks tried to push their case. They camped out in meetings and made their voices heard. I think it's clear their brusque style cost them some support, even as some faculty and university senate members were curious about the questions they were raising.
It's certainly an unusual case, and one we're not likely to see the likes of again for some time. If you learned something else from the whole affair, feel free to share it in the comments below or in a message to me. I'd love to hear it.
• I spotted for the first time on Monday a reminder that summer will be winding down soon in about a month, and that the great annual Lawrence ritual of move-in day will be upon us before we know it.
If you're the type that likes to mark calendars, you can circle Friday, Aug. 17, as the day to steer clear of the raging hordes at Target, because that's when residence and scholarship halls will open.
Jayhawker Towers apartments will open on Tuesday, Aug. 14.
• I take tips for Heard on the Hill from all comers, regardless if they have tenure or not. Just keep sending them to ahyland@ljworld.com.
Copyright 2018 The Lawrence Journal-World. All rights reserved. This material may not be published, broadcast, rewritten or redistributed. We strive to uphold our values for every story published.