All Tina Hawkins needed were some people to give her confidence.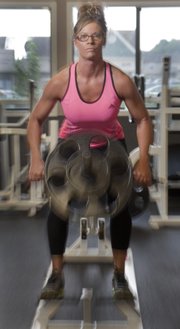 Hawkins attended a national bodybuilding competition as a spectator and was told by a group of International Federation of Body Builders and Fitness judges that she would make a great bodybuilder.
She entered her first competition just six months later.
Since then, Hawkins won 2008 Kansas State Championships, placed 16th in her class at the 2010 IFBB North American Championships in Cleveland and won her class at the 2012 Iowa State & Midwest competition.
Hawkins is now gearing up for the 2012 IFBB North American Championships, Aug. 31 in Pittsburgh, with the goal of winning her class and, as a result, obtaining her pro card.
As Hawkins has progressed with her performances at different competitions since she started bodybuilding in 2008, her training has changed as well.
"When I first started, (training was) a lot more extensive," Hawkins said. "I was trying to get the muscle mass I needed for the sport. But like now, I'll go in in the mornings, and I'll do 45 minutes to a hour of hard, heavy lifting, and then I go in at nighttime and do currently 45 minutes, which is being bumped up to a hour, which will be bumped up to a hour-and-a-half of actual StairMaster and cardio. I'll do (abdominal work) as well."
While Hawkins focuses on paying attention to how her body feels in relation to her training schedule, she also closely monitors how much and what she eats.
"I'll go from a maintenance-and-building-phase diet to a contest diet, and depending on where I'm at as to how many weeks out I am from contest, my diet will change," Hawkins said. "Like right now, I'm going through seven days of ketosis, which means I can take protein only, and then on Sunday I'll get to have two cheat meals, at which I can eat anything that I want, and then I'll go back to a carb cycle, which means I'll go three days at a time with absolutely no carbs, and then I'll add in a carbohydrate to my diet, and that will go on until contest."
Strict training and dietary schedules are common among male and female bodybuilders, but in order to get the build of a bodybuilder, Hawkins says there is more pressure on women to take performance-enhancing drugs. Although Hawkins said a number of the women she competes against use some form of testosterone, she maintains that staying clean gives her more a natural feminine physique.
"That's why I have a lot of people that will comment to me, 'Wow, you look amazing, and you are very pretty for being a bodybuilder,'" Hawkins said. "I get that a lot, and I do think that it's because so many women turn and their trainers have them turn to the (Human Growth Hormones) and testosterone to where it does change their look, so it really makes me stand out more being that I am a natural and that I do have that feminine look. That is something that I will never give up. That is one thing to this day that if I can't do it on my own, I won't do it."
While Hawkins has no intentions of giving up bodybuilding any time soon, she almost passed up on pursuing a career in bodybuilding, when she was also a player in the Leather and Lace Football League.
"I was playing for the KC Tease," Hawkins said. "I signed a contract with them, and they actually made me captain of the team, and because of my competing and what went into it, it kind of came down to the deal where it was one or the other. I couldn't do both, so I quit the KC Tease and just went strictly to bodybuilding."
Now, as Hawkins prepares to compete at the IFBB North American Championships, she says she'd like to motivate others the way she was motivated.
"My goal as a bodybuilder is to get my pro card and to basically travel and let people know that (bodybuilding) doesn't always have to be what (they) think it is," Hawkins said. "A lot of people feel like a lot of things that I do are out of reach for them, and I just want them to know that they are really not."
Copyright 2017 The Lawrence Journal-World. All rights reserved. This material may not be published, broadcast, rewritten or redistributed. We strive to uphold our values for every story published.