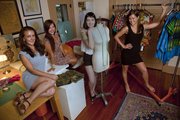 On June 9, boutiques in the Crossroads District of Kansas City, Mo., transformed west 18th Street into a stadium of sorts. The theme of the 18th Street Fashion Show, Triple Crown Summer, suggested a horse race would be taking place, but instead of horses on the track, models cascaded down the runway showing off collections of 18 area fashion designers.
Four Lawrence designers got the nod to create collections for the show: Margie Hogue, Jennifer Hunt, Whitney Matalone and Katrina Weiss. They shared their experiences in the 18th Street Fashion Show and their involvement in the local fashion design community in general:
Jennifer Hunt
Jennifer Hunt made a brief break from Lawrence to the East Coast after high school. Immediately upon graduating, she enrolled in the Maryland Institute College of Art for fashion design school. After a year of school, she dropped out to move to New York City to work in the fashion world. Eventually, she made her way back home to Lawrence.

"I was able to find out what I wanted to do when I lived on the East Coast. But even though I knew what I wanted to do, I couldn't focus there," she says.
Hunt, 25, has always had a knack for style. Growing up, she loved clothes but ultimately found her niche in textiles and fabrics instead of the actual construction of clothing pieces. For her and her partner's collection at the 18th Street Fashion Show, Hunt chose all the brightly colored, diversely textured fabrics, and her partner handled all the sewing.
"Fashion is the ultimate display of my passion for textiles, and it's definitely the most fun way to flaunt my designs," she says.
Right now, she's living out her passion by working for Peruvian Connection, a 35-year-old clothing company founded in Tonganoxie that specializes in luxury cotton and alpaca wool. She works with a team of in-house designers that supports other teams of Peruvian Connection designers in New York City and Lima, Peru.
It's hidden gems like Peruvian Connections that make her proud of her Lawrence roots, and she isn't afraid to stand up for Midwestern style. In fact, she strongly defends the style of her Lawrencian comrades.
"Anyone who has lived on the East Coast would tell you that Lawrence is actually incredibly hip and fashionable," she says. "I have friends that come to visit from the East Coast, and they're always surprised."
Katrina Weiss
Katrina Weiss discovered in college what a lot of other women find out later on in life: mom is usually right. As a young girl, Weiss' mother tried to persuade her to sew, and while she has always been interested in fashion, she refused to learn. In college, though, Weiss picked up the skill and discovered her passion for it.
She grew up in Lincoln, Neb., and moved to Lawrence in 2004 after graduating from high school. While in school at Kansas University, Weiss studied theater design before switching her major to fine arts and then to textiles, but she never finished her degree.

"After a few years' break in school, I went to Johnson County Community College to study fashion merchandising and design, but I didn't finish that either. I can say, though, that I learned a lot from my time in school. I got a lot of experience," Weiss says.
Weiss has been involved in a number of fashion shows in her time in Lawrence, including this year's 18th Street Fashion Show and last year's GaDuGi benefit fashion show.
"There's a lot of stuff happening in fashion on the local level," she says. "It's a lot more laid back, but you definitely don't have to travel too far to find what you want."
Her collection in the 18th Street Fashion Show showcased her tendency toward clean lines, and for this particular collection, she integrated a lot of pastels and a few bright pops of teal and coral to complete her take on horse jockey wear for women.

"My gut instinct is always to choose the black or gray fabric, but the horse races are always so colorful," she says. "I had to step away from the neutrals to make the collection work."
Up next for Weiss, 27, is a move to Denver to get involved with the fashion design scene there. She appreciates fashion in the Midwest and wants to lend herself to its growth and movement.
"I've been in Lawrence for eight years, and being involved in the fashion community here has helped and challenged me," she says. "I'm excited to get out to Denver and continue my work."
Whitney Matalone
Whitney Matalone learned how to make clothes, ironically, by taking them apart.
As one particularly interested in reworking vintage pieces, Matalone has gotten plenty of practice in the fashion world's equivalent of collaging. For her senior thesis in textile design at KU in May of this year, she created a large cloak made out of numerous fabrics, textures and prints.

"I love making vintage modern by deconstructing different pieces and reconstructing them in a completely different way," Matalone says.
Matalone, 24, has always been interested in fashion, saying that from a young age, she was very opinionated about what she wore. But she is quick to point out that she is an artist first, fashion designer second.
"Through all of the fashion design, I try to keep an artist's perspective. But I've been doing the art for so long that it is interesting for me to create something that's actually functional and wearable," she says.
The collection she created for the 18th Street Fashion Show showcased her talent in creating outfits that girls in their 20s could take directly off the runway and wear. She took inspiration from all aspects of a horse race — flowers, jockey wear, brightly colored horse blinders — and created an '80s beachwear-like collection.
"This is my first collection that I've ever made," she says. "I wanted it to be really wearable. I want my friends to be interested in buying it because that's the type of design I want to do eventually."
While she's planning on applying for jobs and moving to New York to pursue her dream of fashion design in the near future, she doesn't plan on losing her roots in Lawrence. And her entire collection reflected that sentiment.
"We're lucky we have a place like Lawrence because people here are funky," she says. "I get inspiration from Lawrence. The accessories I used with my collection — the hair, the models — everything that was in the collection was from Lawrence."
Margie Hogue
When Margie Hogue sat behind a sewing machine for the first time just three years ago, she didn't imagine she would be creating fashion collections for the runway and apparel lines for a growing company so soon.
In fact, she chose fashion design as a career only after modeling for a fashion designer friend who encouraged her to take a few classes at Johnson County Community College to see if she liked it.
"Before taking classes, I had absolutely no design or art experience. In high school, I was much more focused on academics and sports," Hogue says.
Hogue, 30, definitely didn't look like a designer relatively new to the scene with her collection in the 18th Street Fashion Show. Hogue and her partner, Andrea Long, created a collection that incorporated all aspects of a horse race with feminine lace, sneaky cutouts in the fabric and a little bit of leather to finish it off.
Her steep learning curve could partially be attributed to her full-time job as a designer for Awava, a fair-trade African craft company founded to help Ugandan women reach economic sustainability. She recently finished designing the company's first apparel line and just got back from Uganda where local women manufactured the entire line.
"We're talking high-waisted metallic shorts, dresses and wrap skirts," she says. "It's all very western fashion that these African women would never wear, but they were so excited to try on all the pieces."
A concern Hogue had when first getting into fashion was that there would be no career opportunities. Now that she has found one, she's content with where she is and wants to see the Lawrence fashion design community to collaborate more.
"This is pretty close to the dream," she says. "My vision for the fashion world is to grow ethical fashion. I also want to collaborate with other local designers and have a space where we can sell our designs collectively."
Copyright 2018 The Lawrence Journal-World. All rights reserved. This material may not be published, broadcast, rewritten or redistributed. We strive to uphold our values for every story published.