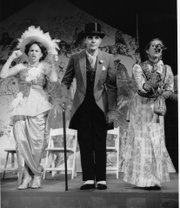 When you run into someone on the street, how do you know what class of society they belong to?
You might be able to tell from their cellphone, their clothing, or perhaps even where they've come from or where they're off to. But we don't really care (or like to think we don't care) about what class someone belongs to, and would rather not talk about it.
'My Fair Lady'
Remaining performances run Sunday and July 22 at 2:30, Thursday, Friday and Saturday at 7:30 at the Crafton-Preyer Theatre in Murphy Hall. Tickets are $15 for general public, $14 for KU faculty or staff, and $10 for students.
But it might be different if a primary indicator of one's class were something more tied to one's body. If each word to leave your mouth broadcast your class, it might complicate the supposed ease with which we brush it aside.
This social issue inhabits the world of "My Fair Lady," a musical by Alan Jay Lerner and Frederick Loewe, adapted from George Bernard Shaw's "Pygmalion" and put on by the Kansas University Theatre.
It tells the story of Eliza Doolittle, a poor seller of flowers who meets a phonetician named Henry Higgins. Higgins and his friend Colonel Pickering make it their mission to transform the "deliciously low" Eliza. They wish to make an experiment of her, to see if they can turn her into a woman of gentility. Of particular concern is her stubborn Cockney accent and dirty mouth, both of which must be transformed into the polite, graceful speech of an English lady so that she can attend the Embassy Ball.
Higgins' ego and Eliza's roughness get in the way of progress. Higgins has built his entire life around phonetics. He can not only tell exactly where you're from by how you speak, but he also sees dialects as class barriers, and his work to change Eliza's dialect is an attempt to see if he can "fill up the deepest gulf that separates class from class and soul from soul."
A self-assured, Benedick-like bachelor lifestyle keeps Higgins from truly being interested in Eliza's soul; he hardly thinks she has one. Once Eliza becomes attached to Higgins, it becomes clear that, to win him, she must break through his intellectual wall and find the softness within him.
Direction and choreography by John Staniunas give the musical a well-ordered and lively feel, though the performance could use a lot more action downstage. The musical takes a while to get its energy up; the first few dancing numbers could have perhaps used more invention or charm. But later scenes pick up, and perhaps the best takes place when Eliza gets her first chance to put her ladylike skills to the test.
The scene overflows with English civility, a hilarious caricature of a day at the races replete with big egos, enormous hats, and Eliza's diverting enunciation of her newly found and exceptionally refined English accent.
Julia Geisler plays a pugnacious and yet sly Eliza. An actress playing Eliza must show grit before her transformation into a lady and she must show polish after. But she must also be able to give the audience the impression that she's still got some habits, tendencies or traits left over from her rough, streetwise self. Though perhaps more comfortable playing a refined Eliza, Geisler shows flexibility, keeping Eliza's core intact through the metamorphosis.
Joe Winans plays a stolid, jacket-buttoning Henry Higgins and Stephen Dagrosa plays his friend, Colonel Pickering. Winans performs ably, if not with extreme depth, and Dagrosa keenly gives an earnest, nervous, amiable Colonel Pickering.
Staniunas employs a "Jewel Box" approach, roughly meaning that some actors and actresses play multiple roles. As his director's note says, this attempts to draw the audience's attention to class distinctions even further, watching an actor as an aristocrat in one scene and a menial in the next. A skilled supporting cast pulls off this effect. Joseph Carr plays a wheezing, breathy Alfred Doolittle (as well as a policeman and a servant), Sara Kennedy plays an emphatic Mrs. Pierce and a hilariously wide-eyed, gawking, finger-crooked Mrs. Eynsford Hill. Andrew Shaw plays many characters, becoming a sort of agile, energetic everyman who is well worth watching whether he's the focus of a scene or not.
Theatergoers who attend for the music won't find it lacking: the ensemble sings well, and Ryan McCall's musical direction and skill on the piano are easy to notice. The set presents the show well, if at times being a bit gimmicky, and costumes by Delores Ringer help conjure early 20th-century London with both precision and pomp. Paul Meier's dialect coaching and design make Eliza's vocal transformation seem an impressive one. Her Cockney is as thick as Henry Higgins' ego.
Taken as a whole, a strong cast and great supporting cast make "My Fair Lady" more fun than the show might otherwise be. And the "Jewel Box" approach, as well as some well-done accents, get the audience thinking about class distinctions in new ways. It reminds us that, not too long ago, class was something too glaring, too personal for us to brush under the rug.
Copyright 2018 The Lawrence Journal-World. All rights reserved. This material may not be published, broadcast, rewritten or redistributed. We strive to uphold our values for every story published.