Instead of responding to fires and medical calls outside of Lawrence this summer, Wakarusa Township firefighter Nick Cesare has been dropped from helicopters as part of a crew hoping to contain wildfires in the West.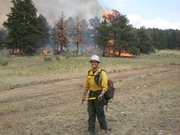 "Sometimes it looks like a battleground in there," said Cesare, 21, a Haskell Indian Nations University student who graduated in 2009 from Free State High School.
Cesare, the son of David and Denise Cesare, of Lawrence, began working in May in a seasonal position with the U.S. Forest Service.
He finished finals at Haskell early and flew in early May to Logan, Utah, for his training. Now he's fought wildfires outside Salt Lake City, Pegosa Springs, Colo., Fort Collins, Colo., Hyde Park in New Mexico, and another one in Utah. His crew this week traveled to Idaho for a fire northeast of Boise, Idaho.
The region has suffered from a dry winter, spring and summer, which makes the blazes difficult to contain. And it has made for major destruction in Colorado Springs and other places.
Cesare said he has seen a mixture of homes burned down to their foundations and he relishes being able to go to work to spare others from a large blaze.
"When we go in there, we all understand the dangers and risk, but we always have a plan on how to approach it, what tactics to take on it," he said. "The biggest thing is saving structures and trying to minimize the fire to as small as possible so it doesn't spread."
He's working as part of a 22-man crew that was trained on three- to five-mile hikes up mountains, plus the use of chain saws and other tactics.
As a boy, Cesare wanted to be a firefighter, and he said he was fortunate at 18 to get a chance from Wakarusa Township Fire Chief Chris Moore to join the volunteer department. He took a wildfire fighting course in Lawrence and later earned the forest service position.
In the mountains, the job is different, but the goal is the same. Eighty percent of the time his crew is not using water to fight fires. Instead they are cutting and digging to try to contain it or even "back burning" to reduce the amount of flammable material in front of a wildfire.
"We always make sure we have an escape route in case anything turns out for the worst," Cesare said.
It's been a difficult summer for residents in the area, but he said they are often grateful when they see firefighters traveling through their towns and cities.
"That," Cesare said, "is a pretty good feeling."
Copyright 2018 The Lawrence Journal-World. All rights reserved. This material may not be published, broadcast, rewritten or redistributed. We strive to uphold our values for every story published.