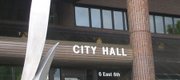 Subscribe to the email edition of Town Talk and we'll deliver you the latest city news and notes every weekday at noon.
News and notes from around town:
• Last night was not a night for much certainty at Lawrence City Hall. City commissioners agreed to publish a budget that includes a property tax rate increase of 0.92 of a mill, but they quickly added they may reduce that number before they vote to give the budget final approval at their Aug. 7 meeting. How would that number be reduced? That's not yet clear.
Commissioners also had their most serious discussion yet about creating a new sales tax to fund improvements for the Police Department and also for economic development purposes. But exactly what path such a sales tax debate may take — such as when the issue feasibly could be put to voters or even when city commissioners will discuss the issue again — isn't yet clear.
Well, add a third topic to the list of issues to be determined: the future of your water and sewer bills.
City Manager David Corliss' recommended budget includes a rate increase for city water and sewer service. In total the budget calls for water and sewer revenues to grow by 4 percent in 2013, with most of that increase coming from higher rates.
But of all the budget items discussed Tuesday, the idea of raising water and sewer rates seemed to get the coolest reception from city commissioners.
In fact, it now appears likely the issue of whether water and sewer rates should be raised won't be decided by the time city commissioners approve the budget on Aug. 7. Commissioners directed staff members to come back with much more information about a host of proposed projects that are driving the need for a water and sewer rate increase. Top among the projects being questioned is a new $50 million sewer treatment plant south of the Wakarusa River.
The recommended 2013 budget includes about $5.7 million to begin design work on the new sewer treatment plant. But commissioners on Tuesday expressed quite a bit of nervousness that the city may be beginning this project too soon. Commissioners are nervous that the city could start building the expensive plant and then not see the population growth that will be needed to help pay for the plant.
City staff members seem nervous the city could wait too long to start the project and then not have enough sewer capacity to accommodate growth when it happens.
It appears likely city commissioners in August will approve the budget in such a way that the city will have the budgetary authority to raise rates for 2013, but the rate increase won't happen unless city commissioners take a specific vote on the issue, which probably won't happen until September.
It will be interesting to watch the issue because I think another underlying fear from staff members is that the city may be getting close to the point with its water and sewer infrastructure that it did with streets several years ago. The city lets maintenance projects pile up , and then it suddenly finds itself in a deep hole that is expensive to get out of.
One quick conversation that highlighted the quandary was this: City Commissioner Mike Amyx was aggressively questioning staff members on how this proposed rate increase could be blunted. He noted the rate plan includes $3.75 million to recoat the water storage tank that sits in the Oread Neighborhood near KU.
"How many years have we put off the coating of the Oread tank? Amyx asked. "Are you telling me we have to do that this year? That we can't put that off another year?"
Corliss' response was pretty simple.
"We have put it off several years, and it leaks," he said.
• So, what does all this mean in terms of dollars and cents for city ratepayers? City officials do have some numbers on how much the average water and sewer bills of residential customers would increase under the new plan.
Let's start with the household that uses 3,000 gallons of water per month. Currently, that Lawrence household pays $38.84 for water and sewer service. (Remember, your monthly bill from the city also includes trash service and a stormwater fee. We're only looking at the water and sewer portion here.) Under the current proposal, the monthly bill would increase to $41.22 — an increase of $2.38 per month or about 6.1 percent.
If you perhaps have a spouse who insists upon a having a reasonably green lawn — or taking daily showers, for that matter — you might use closer to 8,000 gallons a month in water. Currently that household pays $67.78 per month. Under the current proposal, the monthly bill would increase to $72.34 — an increase of $4.56 or about 6.7 percent.
You might have noticed that both of those households experience increases of more than 6 percent for their bills. But previously in this article I told you the proposal was to raise water and sewer revenues by 4 percent. So why do these average households experience increases of more than 6 percent? Based on the numbers the city provided me, the simple answer seems to be because while the sewer portion of these bills goes up by roughly by 4 percent, the water portion of the bills goes up by more than 8 percent or more. How that equates to total water revenues raising by 4 percent, I'm not sure. But I'll look into it and report back.
Finally, perhaps you are interested in how Lawrence's water and sewer bills stack up against other communities. The city has numbers on those as well. Here's a look at how the rates stack up for the average 8,000 gallon per month household.
— Manhattan: $60.75 per month
— Independence, Mo.: $62.34 per month
— Lee's Summit, Mo.: $63.41 per month
— Topeka: $66.63 per month
— Olathe: $66.81 per month
— Lawrence (current): $67.78 per month
— Johnson County: $70.70 per month
— Lawrence (proposed): $72.34 per month
— Kansas City, Kan.: $87.23 per month
— Kansas City, Mo.: $89.07 per month
— Bonner Springs: $89.94 per month
— Gardner: $94.05 per month.
One note to keep in mind, most of the other communities on this list also are contemplating rate increases for 2013, so Lawrence's ranking on the list is bound to change from what is shown above.
• One thing that is certain about water: The city is treating a lot of it these days.
City officials believe that June was the busiest June on record for the amount of water produced by the city's two treatment plants.
Jeanette Klamm, a spokeswoman with the utility department, said the plants produced 526 million gallons of water for the month. Staff members searched back a couple of decades and didn't find a higher June total. Typically the amount of water produced in June is closer to 350 million to 420 million gallons.
• After the City Commission's budget study session yesterday, I was chatting with Commissioner Mike Amyx when Sheriff Ken McGovern asked if he could borrow Amyx. My general rule is that as long as the man a sheriff is wanting to borrow is not you, it is good news. So I quickly stepped aside.
McGovern was in the audience of the budget session to hear commission discussion about a county request for the city to pay for four additional dispatchers at the joint city-county dispatch center.
McGovern probably wasn't thrilled with what he heard. Commissioners made no commitment at the study session to fund the dispatchers, but I suspect county officials will continue to lobby city officials on the subject. But it will become more difficult for those positions to be added at this point. One action city commissioners did take on Tuesday was to set the maximum total amount for the 2013 budget. That means if commissioners decide they want to add the four dispatch positions at a cost of about $133,000, the city will have to cut that much from some other part of the city budget.
The city and the county split the operational costs of the dispatch center, with the county paying for 34 percent and the city paying for 66 percent. In recent years, city commissioners — and the city manager in particular — have expressed concerns about that cost-sharing arrangement.
On Tuesday, Corliss said the request from the county was not included in his recommended budget because it didn't fit in with the commission priority to try to limit any property tax increase.
"Basically, I just drew the line on what I thought we could afford," Corliss said. "I don't disagree with the value of adding those new positions, though."
Corliss estimates the city's property tax mill levy would need to increase by another 0.16 of a mill to fund the positions. A 0.16 of a mill increase would add another $3.68 per year in property taxes on a $200,000 home. That would be in addition to the approximately $21 per year tax increase that already is included in the city's recommended budget.
By the way, the sheriff did return Commissioner Amyx.
Copyright 2018 The Lawrence Journal-World. All rights reserved. This material may not be published, broadcast, rewritten or redistributed. We strive to uphold our values for every story published.