Ice cream, coffee and tea.
All delicious, and all a big enough draw to be the main component in business plans for more than just a few stores in downtown Lawrence.
The idea to have a store based on just those three things isn't new or different or even that eye-catching — they're everywhere.
What's not ubiquitous is Debbie Briggs' idea for a one-stop shop.
Since opening in April, the business owner has seen her fair share of stunned-but-excited customers, trying to make sure they read the sign right.
Briggs deals in oil. And nearly only oil.
Her shop, Extra Virgin, 937 Mass., has more than 50 flavors of extra virgin olive oils and balsamic vinegars.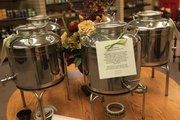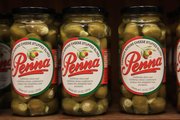 "I've always loved using olive oil myself and realized the health benefits of using olive oil," she says. Olive oil is high in monounsaturated fats, which have been shown to be heart-healthy. "I had (the shop idea) in my head for a couple of years, and knew I wanted to do it in Lawrence."
There are a few other items at Extra Virgin, too — accessories for cooking and storing olive oil, plus body care products made of olive oil — but when you enter the store, you walk into a room made for the enjoyment of oil and vinegar.
Which is about as stunning as possible to many who walk in, says Briggs.
"They are overwhelmed," says Briggs with a laugh. "They are overwhelmed and they don't know what to do with it."
What you do, Briggs tells them, is shop for oil and vinegar pretty much the same way you'd shop for a scented lotion — test, test and test some more until you find just what you're looking for. And there's a ton of variety — if you think all olive oils and balsamic vinegars are the same, think again.
The store is laid out with two separate island-type "bars" — one for oils and one for vinegars. The goods are stored in large metal canisters called "fustis." Each fusti has a spigot, and is labeled with the type of oil or vinegar and information about its origin and flavor profile in much the same way teas or coffees or wines are described. Some of the oils are straight-up olive oil, while others are infused with herbs and other flavors to create a truly unique taste. The vinegars — all from Modena, Italy — are similarly diverse, going from the barebones traditional to those flavored with figs, pomegranates and even dark chocolate.
Small paper cups are available to sample the oils and vinegars. It might sound strange to do a tiny little shot of olive oil or vinegar, but Briggs says it's the only way to truly understand how different each of the flavors can be.
"I just get them started with the most popular and let them taste that and take them from there," says Briggs, who also has pairing sheets for customers looking to match the right vinegar with the right oil. The store's most popular items — the Tuscan herb olive oil and the 18-year traditional balsamic — pair nicely, naturally.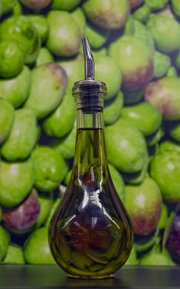 "Then it's really just a matter of taste, what sounds good or what works well with what you want to do," she says.
Find one or more that you like and Briggs will bottle it for you right there — customers have three sizes of bottles from which to choose. She says the vinegars only get better with age, while the olive oil will last nine to 12 months.
"When you buy it in the store, you don't know how long it's been sitting there, how long it's been in the bottle, or even if it is extra virgin olive oil — there's a lot of adulteration of extra virgin olive oil," she says, adding that she buys from both the northern and southern hemispheres to keep her supply fresh. "We can authenticate exactly where they come from and that they are extra virgin."
The authentication piece means a lot for customer Nancy Evangelidis. Her 3-year-old daughter has food allergies that make her unable to have dairy, soy or gluten. Because of the Extra Virgin's authentication process, Evangelidis can ensure that the oils are entirely safe for her family. It's made cooking much easier for Evangelidis — so much so that though she lives in Manhattan, she stops by the store whenever she's in or around Lawrence.
"We stumbled upon it a couple of months ago," says Evangelidis, who went to Kansas University and is in Lawrence often. "It was exciting to find they had a better substitute in oils because she can't have butter. It's really good, can't say enough about it."
Copyright 2018 The Lawrence Journal-World. All rights reserved. This material may not be published, broadcast, rewritten or redistributed. We strive to uphold our values for every story published.