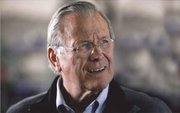 Two-time U.S. Secretary of Defense Donald Rumsfeld will speak at the Dole Institute of Politics later this month, Kansas University announced Tuesday.
The former chief of staff for President Gerald Ford will be featured in a Dole Forum event 4 p.m. July 26 at the institute on KU's West Campus. The event is free, open to the public and will include a book sale and signing.
"Few people have had the opportunity to work as a Cabinet member under three different White House administrations," Dole Institute director Bill Lacy said. "We look forward to hearing firsthand accounts of the secretary's extensive career during some of the most infamous and pivotal moments in U.S. history."
Rumsfeld was also Ford's defense secretary and is best known for returning to the post under President George W. Bush and leading the Pentagon during wars in Afghanistan and Iraq. He resigned in 2006 and since then has written a memoir, established an educational foundation and served as a distinguished fellow at the Hoover Institution at Stanford University.
He will be available for a limited, 30-minute book signing at the close of the July 26 program. According to the Dole Institute, in the interest of time, there will be a two-signature maximum per person for the book signing. Both hardback and paperback copies of his book will be available for sale.
Copyright 2018 The Lawrence Journal-World. All rights reserved. This material may not be published, broadcast, rewritten or redistributed. We strive to uphold our values for every story published.