Photo Gallery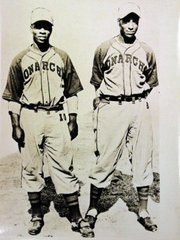 Spencer Research Library Memorabilia
As Major League Baseball fans converge on Kansas City for Tuesday's All-Star Game, Kansas University's Spencer Research Library has a few baseball-related items of its own about which it can boast.
One collection is about the Kansas City Monarchs, a Negro Leagues baseball team, and its players.
"Once we got online, aficionados from around the nation and across the world have been here" to examine the collection of materials, said Deborah Dandridge, a Spencer librarian who helps oversee the collection.
Some materials in the KU collection are on permanent display in the Negro Leagues Baseball Museum in Kansas City, Mo.
Part of the extensive amount of material housed at the Spencer Research Library comes from the George Giles Collection.
Giles, born May 9, 1909, in Junction City, joined the Kansas City Monarchs in 1925. His papers were given to the library following his death. The contract he signed in 1925 is part of the collection, and it details his $125-per-month salary.
"That wasn't so bad then," Dandridge said.
The library also is the home of the papers of T.Y. Baird, an owner of the Monarchs.
To say that Baird was meticulous about keeping financial records would be something of an understatement.
The collection includes individual receipts for things like "41.7 gallons of ethyl" from Dick's Texaco at 17th Street and Paseo Boulevard in Kansas City, Mo., on June 28, 1949.
The total amount of revenue for one game the Monarchs played against the Indianapolis Clowns on Sept. 19, 1950, is meticulously divided up.
The net gate receipt of $1,721 was divided four ways, including the Monarchs and Clowns each getting 27.5 percent, the association receiving 40 percent. Another 5 percent went to publicity.
The collections also feature promotional materials and other photos featuring a game against House of David baseball teams, an early 20th-century Jewish baseball club.
Larry Lester is a Kansas City-area scholar who used KU's collection for research for a book, "Baseball's First Colored World Series."
"It's a wealth of information," Lester said of KU's collection. "I was never able to spend enough time looking through it all."
The financial information, in particular, helps validate several claims made by others, Lester said.
The records show black baseball players made about 60 percent of what their white counterparts made, he said — about the salary of a postal worker or school teacher.
"It was a good salary for six months, but it wasn't enough to live on," Lester said.
The collections also contradict one claim made in several newspapers at the time, Lester said. Namely, that the Negro League teams weren't very well-run financially and that it was something of a "willy-nilly league," he said.
"This collection proves that wrong," he said.
Copyright 2018 The Lawrence Journal-World. All rights reserved. This material may not be published, broadcast, rewritten or redistributed. We strive to uphold our values for every story published.