Photo Gallery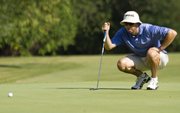 LAGA city tournament Day 1
Everyone familiar with the Lawrence Amateur Golf Association city championship saw it coming, and as sure as July humidity, there was Conrad Roberts' name atop the leaderboard after the first round Saturday at Alvamar.
The former champion, unable to compete for the LAGA title last summer, returned to the tournament he won five consecutive years (2006-10) and didn't miss a beat. Roberts' 70 was the best score of the championship flight.
"Anything under par is a good score," Roberts, the former Kansas University golfer, said of his 2-under round. "That's right where I had my sights at."
At the turn, the eventual leader wasn't feeling great about his score. Roberts three-putted on the ninth hole for a bogey to finish even (36) on the front nine. But he followed that up by capitalizing on "the two birdie holes" of Alvamar's public course, Nos. 10 and 11, with back-to-back birdies.
What really gave him momentum, though, was a 35-foot birdie putt on the 13th.
"You're just trying to two-putt, and it just happened to drop in," he said of the fortunate roll.
By the end of the round, Roberts found himself with a three-stroke lead over second-place golfers Michael Rack and Kyle Ritchie — each of whom posted a 73 — headed into today's second and final round at Alvamar Country Club.
"Golf's a very unique sport, where I can only control what I do," Roberts said.
Rack, a member at Alvamar, was very pleased with his 1-over round. He said he spends most of his time on the private course, but has been playing the public course four to six times a year after experiencing it for the first time in the mid-80s, when he golfed at Nebraska and would come to Lawrence for KU tournaments.
While today's round will be played on the private course, Rack doesn't think that necessarily gives him an advantage.
"It is familiar, but you look at who is at the top," Rack said. "Conrad Roberts … he knows the course as well as anybody. Nobody's going to have an advantage over him."
Behind Rack and Ritchie in the top 10, William Gantz and Justin Hohl are tied for fourth at 76, Matt Bellemere and Kit Grove are knotted at sixth with 78, Tyler Cummins stands alone at eighth with a 79, and Seth McCauley and Steve Randall are tied for ninth at 81.
Roberts is looking forward to the final 18 holes but doesn't anticipate a three-shot lead will be safe on the private course.
"If we were playing the same course, the public, again, I'd feel a lot more confident," he said.
Senior Grosdidier shoots 69
The top score of the day didn't come from the men's flight. Mike Grosdidier was 1-under on the front nine and 2-under on the back to finish with a 69 and the lead in the seniors championship flight.
"I'm not hitting off the same tees as those guys," Grosdidier said of having fewer strokes than those in the top overall flight.
His wedge had a lot to do with his good fortune.
"I had four shots that were basically kick-ins, because you hit them close," Grosdidier said. "When you get that going, that makes a lot of difference."
Leaders from the other flights are: Jettie Bezek (85), women's; Ryan Scott (75), men's first flight; Michael Farve (95), men's second flight; James Stansell (78), seniors first flight; Chris Davis (77), super seniors championship flight; Mike Richey (85), super seniors first flight.
Copyright 2018 The Lawrence Journal-World. All rights reserved. This material may not be published, broadcast, rewritten or redistributed. We strive to uphold our values for every story published.