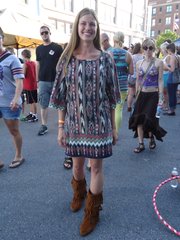 Name: Christina Smith
Age: 26
Relationship status: Married-ish
Hometown: Lawrence
Time in Lawrence: Four years
Occupation: Educator
Dream job: I do it.
What were you doing when scouted? Watching a Hula-Hooper
Describe your style: Casual hip
Fashion trends you love: I'm not up on fashion.
Fashion trends you hate: Fairy wings and fluffy leg warmers
Fashion influences: Green/brown, dirty hippies
What would you like to see more of in Lawrence? Breweries, like Barnyard Brewery
Less of? Graphic T-shirts
Tattoos or piercings? Eight piercings, three tattoos.
Who do people say you look like? Anne Hathaway
Tell us a secret… I have the best son in the world.
Copyright 2018 The Lawrence Journal-World. All rights reserved. This material may not be published, broadcast, rewritten or redistributed. We strive to uphold our values for every story published.