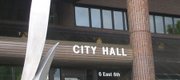 Subscribe to the email edition of Town Talk and we'll deliver you the latest city news and notes every weekday at noon.
News and notes from around town:
• I'll be honest, my fruit intake has gone way down ever since Penny Annie's Sweet Shop near Ninth and Massachusetts streets closed its Lawrence store last summer.
Often, the healthy instincts of my body would start to crave fruit, and I would head down to Penny Annie's. The shop sold these wonderful, miniaturized fruits — I believe they called them Runts — that were so sweet you would have sworn they were made from pure sugar. (I actually thought that once, but then realized — duh — if you shrink a banana or a strawberry or a grape to such small size, its natural sweetness is obviously going to be concentrated.) It was great. On an almost daily basis I would return home and tell my wife that I had a fruit salad for lunch.
Well, those days aren't returning any time soon (for a variety of reasons), but sweets are returning to the former Penny Annie's location at 845 Mass.
I've confirmed that TCBY — the frozen yogurt franchise — has reached a deal to open a store in the former Penny Annie's space later this summer.
Area franchisee Ed Forman confirmed to me that he plans to have a TCBY open in the location by early September. TCBY labels itself the first frozen yogurt shop in the country — opening a store in 1981 in Arkansas. Today, it has more than 450 stores across the country.
Its menu features about 30 varieties of soft serve frozen yogurt, hand-scooped frozen yogurt, a variety of toppings, and frozen cakes and pies, among other items.
Forman is getting into the frozen yogurt business after retiring from owning a chain of Verizon Wireless phone stores in eastern Kansas. Forman said locating a TCBY in Downtown Lawrence seemed to be a natural fit.
"I just really love that downtown area," Forman said. "It is so vibrant, and it brings that real sense of family and community, which is what we're looking for."
The frozen novelty business is becoming big business in Downtown Lawrence. Downtown already is home to 3 Spoons Frozen Yogurt, several ice cream shops, a frozen juice store, and tons of places that will sell you frozen frappes, mochas and other European-sounding drinks.
But it is all a good problem. By my way of thinking, when my wife now asks me what I had for lunch, it will be easier than ever to say: "A cup of yogurt."
• As much as a large menu of frozen treats can make a fellow drool, there's a menu of companies out there considering locating in the greater Kansas City area that has raised excitement levels with area economic development professionals.
I attended a meeting recently where a list of prospects that were considering the greater Kansas City area — including Lawrence — was shown. I have heard from multiple sources that Lawrence has made the "short list" of a few economic development site selection projects.
I have zero insight into what companies may be poised to select Lawrence for their next project, but I thought I would pass along this list anyway. If nothing else, I think it gives a pretty good idea of the type of companies Lawrence hopes to be competing for once the former Farmland Industries property is converted into a business park.
The list is from the Kansas City Area Development Council, and I suspect some of these projects already have come and gone. The list that I was provided didn't provide specific company names (it does have cool code names though.) Anyway, here goes:
— Project Maple: 150-employee technical support center.
— U.S. Patent and Trademark Satellite Office: 100 employees.
— Project Operation Salute: $200 million, 600-employee IT operations center.
— Project Park: 1.2 million-square-feet logistics facility. (I think that might be fancy code talk for a warehouse/distribution center.)
— Project Boreas: German wind turbine component manufacturer.
— Project Saturn : U.S. headquarters for Australian pharma company.
— Project Tea: 150-employee operations center.
— Project Libra: 800-employee software development firm.
— Project Comfort: 1,350-employee back-office operation.
— Project Star: 230-employee shared services center.
— Project Trim: 170,000-square-foot auto assembly supplier.
— Project Cuba: Veterinary pharma production facility. (No word on whether the deal comes with Castro too.)
— Project Quixote: Early stage life sciences company.
— Project Victoria: Australian animal health company headquarters.
— Project Queen: 1,000-employee customer service center.
— Project Moss: 150,000-square-foot assembly operation.
— Project Redbud: 200,000-square-foot logistics facility
— Project Pure: 210,000-square-foot manufacturing facility involving some sort of desalination process.
• It is the day before a holiday, so I think I will partake in the great American tradition of slacking off. In other words, I'm just going to give you two Town Talk items instead of three today. After all, there are fireworks to organize and household items to blow up. Town Talk will be off tomorrow, but assuming I still have all 10 digits to type with, it will be back on Thursday. Have a happy and safe Independence Day, be thankful for our freedoms, and be mindful of the dry weather. Otherwise, I'll shoot you with my garden hose.
Copyright 2018 The Lawrence Journal-World. All rights reserved. This material may not be published, broadcast, rewritten or redistributed. We strive to uphold our values for every story published.