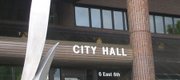 Subscribe to the email edition of Town Talk and we'll deliver you the latest city news and notes every weekday at noon.
News and notes from around town:
• A few days ago, we reported on the city of Lawrence converting one of its pickup trucks to run on natural gas. Well, that's not the only green energy vehicle project under consideration at City Hall.
My understanding is the city's Eagle Bend Golf Course is seriously considering converting all of its golf carts to electric carts rather than the gasoline-fueled machines it currently uses.
The conversion would take place next year.
I chatted with some parks and recreation folks several weeks ago, and they were fairly certain the project would be moving forward. I was a bit surprised because it seems like it would take an awful long extension cord to follow me around a golf course.
Oh, I'm told it doesn't work that way. The project will involve adding 25 to 30 charging stations to the barn where carts are stored overnight. Preliminary estimates pegged the conversion costs at $20,000. As for the carts themselves, they are leased. The city is nearing the end of a five-year lease period, and will need to lease new carts regardless of whether the conversion happens.
The one thing that has changed since I talked with Parks and Recreation leaders a few weeks ago is that gasoline prices have gone down a bit. Mark Hecker, superintendent for parks and facilities, told me electric carts pencil out better than gasoline carts anytime gasoline is at or above the $3.25 mark. At $3.25 per gallon, the conversion project pays for itself in about three years.
While gasoline prices have gone down a bit, the city basically is betting on the long-term price of gasoline remaining above $3.25 per gallon. If you are willing to bet the long-term price of gasoline will be below that level, I'll find room for you in my golf foursome. You sound like the type that would be willing to bet that my buddy will make that 15-foot par putt. Or the 16-foot bogey putt that will follow. (He never leaves a par putt short.) Or the 8-foot double bogey putt. Or the four-foot … well you get the picture.
Man, I hope those batteries hold a charge.
• Right now a good bet may be on the prices of cigarettes to rise. If you remember a few months ago, we reported how the state of Kansas shut down a pair of Lawrence businesses that were operating "roll-your-own" cigarette machines.
UCF Half Price Smokes at 2540 Iowa and at 601 Kasold both were caught up in a statewide crackdown on the roll-your-own machines. The state contended the machines were operating as an unlicensed manufacturer of tobacco products. The state cited safety concerns, but it was pretty clear there also were concerns that the stores weren't charging the same type of taxes that a consumer normally pays for traditionally manufactured cigarettes. The taxes on a manufactured cigarette are significantly higher than the taxes on loose leaf tobacco used by folks who roll their own cigarettes.
Well, recently UCF Half Price Smokes re-opened its 2540 Iowa Street store. Store owner Bob Peckinpaugh told me the matter regarding the state-crackdown was being challenged in court, and the state apparently had decided not to begin levying fines against roll-your-own operators until the court action proceeded a bit further. So Peckinpaugh was taking advantage of the window of opportunity to re-open his business.
It looks like, however, the window is closing fast. On Friday, Congress passed a new transportation bill. In that bill, it clarified what constitutes a cigarette manufacturer. It specifically labels the high-speed roll-your-own machines at Half Price Smokes and other locations across the country as cigarette manufacturing facilities. That will require the stores to charge the same amount of taxes as traditionally produced cigarettes. With that, the idea of buying half-priced smokes goes up in smoke.
The new law doesn't actually take force until the president signs it on July 6, but a dejected Peckinpaugh told me this morning he's already closed the store.
"We're closed for good now," Peckinpaugh said. "That's our government for you. That's how it helps small businesses these days."
Peckinpaugh said he doesn't know what he is going to do with the two roll-your-own machines — which each cost a little more than $30,000 a piece.
"I guess I'll have $65,000 worth of paper weights in my garage," he said.
• Let's review: If you are buying very much gasoline these days, your income is probably going down. If you used to buy half-price smokes, your income is probably going down. And if you bet on my buddy to make a putt, your income is definitely going down.
Well, come to find out, if you live in Kansas, it probably was going to go down anyway.
The U.S. Bureau of Economic Analysis released its report for personal income totals for the first quarter of 2012, and Kansas fared very poorly. In fact, Kansas was one of only two states in the country that saw its personal income levels decline. Kansas ranked 49th in the country, just ahead of Mississippi.
The report measures all types of income received by individuals — everything from wages to rental income to Social Security checks. In Kansas, that total when down by about 0.1 percent compared to the fourth quarter of 2011. In other words, we really do all have less money to spend.
The results in Kansas were in contrast to the rest of the nation. Nationwide, personal income grew by 0.8 percent in the quarter. Only Mississippi was worse than Kansas with a 0.3 percent decline in personal income.
Needless to say, all the states in the Plains region fared better than Kansas. But particularly galling is how well some of our neighbors did. Two of the seven Plains states had among the highest growth rates in the country. Here's a look at the Plains states, with their percentage of growth and where that ranked the state nationally.
— North Dakota: 2.3 percent, 1st out of 50 states.
— Nebraska: 1.8 percent, 2nd
— Minnesota: 0.9 percent, 27th
— Iowa: 0.8 percent, 31st
— South Dakota: 0.8 percent, 33rd
— Missouri: 0.7 percent, 40th
— Kansas: negative 0.1 percent, 49th
• If financial news like that leaves you wanting to cool off, you'll have one less option this week. Parts of Lawrence's Indoor Aquatic Center will be closed from Thursday through Sunday.
The center is hosting the Wave the Wheat Meet, which is a large competition of area swimmers. The lap pool will be closed from 1 p.m. Thursday through Sunday. The leisure pool will be closed from Friday through Sunday. The city's outdoor pool, 727 Ky., will be open.
Copyright 2018 The Lawrence Journal-World. All rights reserved. This material may not be published, broadcast, rewritten or redistributed. We strive to uphold our values for every story published.