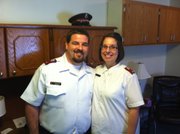 Lawrence's new Salvation Army lieutenants hope to raise funds for a new building, engage with their new community and continue the organization's record of service in their first Salvation Army post.
Matt McCluer, 27, and his wife, Marisa, 22, have been in town since last Tuesday, arriving after completing training in Decatur, Ill., and Chicago.
"We're really just looking forward to getting to know the community itself and the people in it," Marisa said. "We're very relational people."
They are taking over the administration of the post after corps officers Wes and Susan Dalberg left for a new post in Decatur.
Matt said he is ready to begin the planning for a capital campaign to build a new building. Plans call for raising about $4 million to move operations to property the Salvation Army owns on Haskell Avenue between 15th and 19th streets.
"We want to make it short and sweet for the community," Matt said of the fundraising campaign. "We want to get it done and accomplished so it's over."
Matt grew up in nearby Lee's Summit, Mo., and his wife is from Bloomington, Ill. The couple met through the Salvation Army and are expecting their first child.
"I'm looking forward to just continuing to do the mission of the Army and preaching the gospel of Jesus Christ," Matt said.
The couple said they planned to get out into the community so they could get to know Lawrence better. They also welcomed visitors to their building at 946 N.H.
"If anyone wants to get to know us, just stop by," Marisa said. "We try to be here as much as possible, and we're willing to just sit and chat."
Copyright 2017 The Lawrence Journal-World. All rights reserved. This material may not be published, broadcast, rewritten or redistributed. We strive to uphold our values for every story published.