Photo Gallery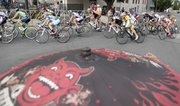 Tour of Lawrence 2012
Brad Huff and Catherine Walberg closed out the fourth annual Tour of Lawrence with victories in the men's and women's Pro/1/2 races Sunday in downtown Lawrence.
Huff entered the men's race as the defending champion, but Sunday's victory did not come easily.
Huff gradually made his way back into the race after a group of 10 riders broke away from the rest of the field.
"No one wanted to chase, so I attacked a couple of times ... kind of what I call stirring the pot," Huff said. "And then 17-year-old Nick (Torraca), he attacked ... stirred the pot. Then Harley-Davidson Gateway, they went to the front with two guys, and I went up and helped them in the last little bit, and we were able to pull it back together. It created another race."
Despite putting himself into position to make a final move to win the race, that move almost did not happen as Huff narrowly avoided a crash on the back side of the course with three laps to go.
"I was just in front of it luckily enough," Huff said.
With one lap remaining, Brian Jensen, Dylan Jones and Stefan Rothe had a five-second lead, but Huff and the rest of the field quickly closed the gap.
Huff outlasted Brian Duvall and Steve Tilford in the final straight-away to repeat as champion.
Tilford, a Topeka native and Kansas University alumnus, enjoyed every aspect of the weekend.
"As soon as they started, you know, (event coordinator) Bob Sanner and these guys were putting this race on (Massachusetts) Street, I mean this is my favorite venue," Tilford said. "I mean, you can race on (the KU) campus (Saturday) and race on (Massachusetts) Street (Sunday). You can't ask for much more as a biker."
Walberg, also a Topeka native, edged out Emilie Flanigan to earn the women's Pro/1/2 victory.
Walberg, Flanigan, Leah Kleager and Sheri Rothe separated themselves from the other six competitors in the field, but Walberg knew she would have to be strategic in order to defeat the other three in the lead pack.
"I knew Emily was a good sprinter," Walberg said. "I knew Leah, the (woman) who jumped me right at the end, had super power. So I don't know if you noticed, but at that last corner, I decided, 'OK, I'm either going to crash or make that turn.' I had to make it through first."
Walberg also was glad to have the opportunity to compete in a race hosted in Kansas against other professional cyclists from around the nation.
"This is such a professionally run race, and I love winning in my home state," Walberg said.
Champions
Master's 40+ — David Hejduk
Women 4 — Rachel Plessing
Juniors — Nathan Goldberg
Cat 5 — Keith Bassham
Women 3 — Leah Kleager
Cat 4 — Roy Doskal
Women Pro/1/2 — Catherine Walberg
Cat 3 — Luke Bligh
Pro/1/2 — Brad Huff
Copyright 2018 The Lawrence Journal-World. All rights reserved. This material may not be published, broadcast, rewritten or redistributed. We strive to uphold our values for every story published.