The Journal-World is once again accepting submissions to the Dear Lawrence community photo project. The popular project was introduced last year, and Lawrence residents, Kansas University alumni and others submitted more than 100 photos.
The premise is simple: Take a picture of someone holding a photo of an old Lawrence scene or locale in front of that location today. Many of last year's submissions were of former KU students, old friends at businesses that are no longer around or families enjoying life at their homes.
The photos will be added to the existing photo gallery.
Photo Gallery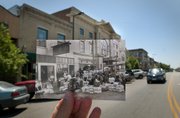 Images from the Dear Lawrence photo project
July 2012 update: We're once again accepting photos for the Dear Lawrence project. Scroll down to see some of the new additions. <br /> <br /> Members of our photography staff, local photographers and all of you are invited to participate in our Dear Lawrence Community photo project. These are some of the great photos we've received so far, but there's still time to participate. Get out your old photos and your cameras and start submitting. You can do it via email to dearlawrence@ljworld.com, by posting a photo on our Facebook page wall at Facebook.com/LJWorld, or submitting an image at <a href="ljworld.com/dearlawrence">ljworld.com/dearlawrence</a>.
Copyright 2018 The Lawrence Journal-World. All rights reserved. This material may not be published, broadcast, rewritten or redistributed. We strive to uphold our values for every story published.