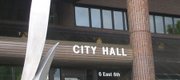 Subscribe to the email edition of Town Talk and we'll deliver you the latest city news and notes every weekday at noon.
News and notes from around town:
• Last week we reported how Lawrence radio station 105.9 (formerly the Lazer, now KISS) made several Jayhawk fans mad by not airing the KU vs. Texas men's basketball game because it would have interfered with a weekend commercial-free promotion it was running. So, I thought it only fair that I pass along an apology that the managers at 105.9 have posted online and elsewhere.
Jay Wachs, the station's relatively new general manager, said in a letter to listeners and advertisers that the decision to dump the game was "a mistake of epic proportions, and I wish to extend my sincere apology for this error in judgment." He went on to say that "the overwhelmingly negative response to my decision has clearly demonstrated to me that the 11th commandment is 'thou shall not mess with KU on 105.9 … ever.'"
A mistake of epic proportions — I'd be broke if I had to pay a dollar every time I was forced to utter that phrase at my house.
• Several weeks ago, we reported how a Lawrence concrete company was looking to build a new sand plant operation along the Kansas River between Perry and Lecompton. Midwest Concrete Materials turned to Jefferson County after a plan to build a similar plant near Midland Junction in northern Douglas County kind of hit a … concrete wall after several neighbors and environmentalists objected. But fear not concrete lovers, Jefferson County commissioners recently approved the plant. Jefferson County Zoning Administrator Bill Noll said commissioners unanimously approved the plans, which call for about 200 acres along the Kansas River to be used for an "off-river" sand pit operation. In other words, there won't be any actual dredging of the river, which does create a lot of controversy with groups like Friends of the Kaw and others who are concerned about the river environment.
But the most interesting part about this whole project is that even though it is now in Jefferson County, it appears most of the impacts will be in Douglas County. MCM has its concrete plant on East 23rd Street near the East Hills business park. So, that's where the majority of the sand is going to get trucked to. According to a traffic analysis, about 60 trucks — each loaded with about 25 tons of sand — will be leaving the facility on a standard work day. A good majority of those trucks will be heading south over the Kansas River bridge at Lecompton and going through Lawrence.
Originally, Jefferson County's planning staff — which includes former Douglas County Planning Director Linda Finger — had proposed a per-ton fee be charged to MCM to account for the wear and tear on the road. The original proposal was that 70 percent of that fee would be sent to Douglas County, because Douglas County roads would be the most heavily impacted by the operations.
But guess what? Jefferson County commissioners decided the idea of sending the bulk of a fee collected in Jefferson County to Douglas County didn't sound quite right. So Jefferson County commissioners did approved a 2 percent per-ton fee, but Jefferson County will keep all the money. According to some documents from Jefferson County, it looks like the fee could generate $30,000 to $40,000 in revenue easily enough, based on recent sand prices of about $5.50 per ton. That fee will be in addition to any Jefferson County property and sales taxes paid by MCM.
It will be interesting to see what the future holds for sand plants in Douglas County. There continues to be a pending request for a similar operation just north of Eudora along the Kansas River. But I believe most of that sand will be shipped to Kansas City, meaning that most of those trucks would be traveling on Leavenworth County roads. Eudora officials, though, have vigorously opposed the plans. They specifically have concerns about the sand pit potentially harming the city's nearby well field, which supplies the city's drinking water. Douglas County commissioners will consider a conditional-use permit for that sand plant operation at their 6:35 p.m. meeting on Wednesday at the DouglasCounty Courthouse.
Regardless of what happens on Wednesday, look for sand plants to get more discussion in the county. The Lawrence-Douglas County Planning Department recently added to its list of projects to complete for 2012 a report that will study suitable locations for sand plant operations in the county.
• While we're in the Lecompton neighborhood … the town of about 625 people in northwest Douglas County has what it thinks is a fairly unique business opportunity — an old high school. I was talking to Lecompton councilwoman Elsie Middleton recently, and she told me the city of Lecompton has taken back possession of the former Lecompton High School Building. Since the early 1990s, the building had been used as office space for the regional educational cooperative that served Jefferson County and the surrounding area. But that organization has moved its offices to Ozawkie.
According to an old article I found, the city of Lecompton basically gave the building to the cooperative for a dollar, but with the condition that it would revert to the city if the organization left.
Now, the city hopes to strike a similar deal with some other organization or business that wants to call Lecompton home. The building has some selling points, Middleton said. The old building is three stories tall and has a marble staircase and halls for starters.
"It is a very substantial building," Middleton said. "We feel like it is an upcoming opportunity for us. We will work to market it."
Lecompton hopes to use its geography to its advantage. It is about 15 minutes from both western Lawrence and eastern Topeka. In fact, it is so close to both cities that telephone calls to both Topeka and Lawrence are considered local calls, Middleton said.
And, you can probably buy sand cheap, too.
Copyright 2018 The Lawrence Journal-World. All rights reserved. This material may not be published, broadcast, rewritten or redistributed. We strive to uphold our values for every story published.