Fourteen Kansas University track and field athletes won individual events on Friday at the Jayhawk Classic in Anschutz Pavilion.
Photo Gallery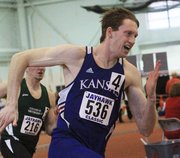 Jayhawk Classic track meet
In a meet that featured both collegiate and professional athletes, Kansas runner Diamond Dixon won the 400-meter dash with an Anschutz-facility-record and NCAA season-best time of 53.05 seconds. KU triple-jumper Andrea Geubelle also set an NCAA-best mark with 13.20 meters, but she finished in third place behind two professionals, both Olympic hopefuls.
Rebeka Stowe (3,000 meters) and Alena Krechyk (weight throw) also broke Anschutz Pavilion records.
"It was a really good meet for us today," KU coach Stanley Redwine said. "We had several winners, facility records and top performances in the nation so things are really shaping up. We, as coaches, thought this would be a really good meet. We had better competition, and our athletes stepped up."
The Jayhawks will compete against some of the top teams in the country on Friday and Saturday at the New Balance Collegiate Invitational in New York City.
Copyright 2018 The Lawrence Journal-World. All rights reserved. This material may not be published, broadcast, rewritten or redistributed. We strive to uphold our values for every story published.