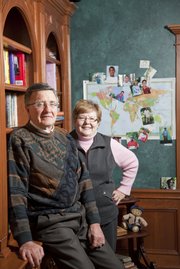 On the wall in Carol Schaub's study is a map of the world. Pinned to it are all the countries where Carol and her husband, Sherry, sponsor children through Kids Alive International.
Displayed around the map are the children's pictures, about a dozen of them from Latin America, Eastern Europe, the Middle East and Africa. Each year, Carol updates the photos, which come with an annual report on how each child is faring emotionally, spiritually and educationally.
"We rescue children at risk," Sherry Schaub said. "If you don't intervene in their lives, they are probably not going to live."
The map is perhaps one of the most passive examples of the Schaubs' work with Kids Alive, a 96-year-old organization that reaches out to the poorest children in the world's poorest countries.
Sherry has been on the organization's board since 1974 and has served as board chairman since 1991. When Sherry was named its chairman, Kids Alive served 250 children in three Third World countries. Today, the organization is in 65 locations in 14 Third World countries and reaches out to thousands of children. Those children are considered at-risk because of military conflicts, child labor, drug abuse, neglect or extreme poverty.
"We are incredibly spoiled in this country. Even the poor in this country are rich compared to the poor in Third World countries. There is a difference between going to bed hungry in this country and starving to death when you live in the Sudan," Carol said.
The Schaubs have a goal to sponsor a child, which costs $35 a month, from each of the 14 countries in which Kids Alive is located. Depending on the location, Kids Alive has set up residential homes where house parents nurture orphans, care centers provide food, education, medical care and clothing to needy children, and schools educate children who otherwise wouldn't attend one.
Together the Schaubs traveled all over the world, visiting Kids Alive's program and fostering relationships with other countries. In Kenya, they've helped children with AIDS decorate a wall with their handprints. Sherry's met with the president of Taiwan and visited the "barrios," or neighborhoods, of the Dominican Republic. And along the way they've even been introduced to the children whose pictures hang in Carol's study.
The two have been to most of the 14 countries the organization serves.

"I've gone everywhere with Sherry except Papua New Guinea. I'm not masochist enough to go there," Carol quipped.
In Carol's defense, Sherry's trip to the Pacific Rim country involved traveling in dugout canoes to remote villages, going three days without a bed and eating food that used a paste of pulverized wood.
Physically and emotionally demanding, the mission trips aren't a vacation, Sherry said. But it doesn't take long before the couple are ready to start planning the next one.
"You will never be the same. Part of you is really impacted every time you go home," Sherry said. "I've made a difference in somebody's life. I've impacted someone's life. There's not too many feelings that are better than that."
'A good fit for us'
Carol and Sherry have been married nearly 50 years and have known each other since grade school. Both grew up in a small town in the Black Hills of South Dakota.
The Schaubs first arrived in Lawrence in 1977. Sherry, an executive for Quaker Oats, was sent to Lawrence to oversee the construction and later management of a factory that turned out Kibbles 'N Bits and Tender Chunks.
In 1986, Sherry's job required the family to move to San Francisco and to later return to Quaker Oats headquarters in Chicago. But by 1997, the couple were looking for a place to settle down as they aged. So they picked Lawrence.
"We had such an outstanding experience in Lawrence," Sherry said. "The community, the people, it was a good fit for us."
It was on the Schaubs' return to Lawrence that the couple began getting others in the community, particularly members of Lawrence Free Methodist Church, involved in Kids Alive.
Among those who Sherry cajoled into going on a mission trip was Larry Wedman, a local contractor. For four years, Sherry urged Wedman to make a trip, and Wedman kept supplying reasons why he couldn't go.
"I was busy building houses. I told him I didn't have the time," Wedman said.
He eventually said yes. The experience changed his life.
"You see a lot of poverty that you don't see here in the United Sates. It's changed me forever," he said. "And then the people are so gracious and happy with absolutely nothing."
Over the years, Wedman has gone on about 10 trips. For some of those missions, he has brought along the framer and backhoe operator who work for his construction company. He has been to Peru and made several return trips to build homes for children in Constanza, Dominican Republic.
In the coming weeks, the Lawrence Free Methodist Church is preparing for its latest mission through Kids Alive, a two-week trip to Haiti. Another group will travel to the Dominican Republic in November. Helping organize the trips is the pastor of children's ministries and missions, Carolyn Heacock.
The Schaubs haven't gone on all of the church's mission trips, but they participate by donating money or helping foster new leaders, Heacock said. Many in the congregation don't know that Sherry is chairman of the Kids Alive board, Heacock said.
"Sherry is excited about other people seeing that vision of how their lives can bless other people and how they can be blessed by other people. Sherry is a great example of that," Heacock said.
While the Schaubs do a lot of behind-the-scenes work, serving on boards and spreading the mission of Kids Alive, Wedman said they aren't afraid of doing some of the literal heavy lifting.
"They don't personify being hands-on construction people. But that doesn't stop them from rolling up their sleeves and laying a block of wall together," Wedman said.
At 69 and 70, Carol and Sherry said they plan to continue taking mission trips and even have hopes of taking their five grandchildren along.
"For Sherry it's probably a spiritual thing. I think he believes that is what he should be doing," Wedman said. "Then, it is just having a big enough heart to want to make it happen."
Copyright 2018 The Lawrence Journal-World. All rights reserved. This material may not be published, broadcast, rewritten or redistributed. We strive to uphold our values for every story published.