Photo Gallery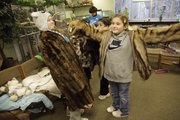 Behind Lens Feature Hunt
This gallery of images shows some of the outtakes and the eventual published photograph from a search for a feature photograph during a winter nature hike.
Our photography staff is often relied upon to gather stand-alone images for the newspaper.
Like a story that doesn't require an illustration, these feature photographs require no text beyond a two-sentence caption answering the questions of who, what, where, when and why of the subject. Their main purpose is to be entertaining visual documents. Preferably, they display visual creativity, interesting lighting, beauty, humor, etc. Staff photographers are on alert for this "wild art" daily.
The best approach for a feature hunt is to seek out activities that are a potential source for interesting photographs. This eliminates time wasted driving around hoping a feature will jump in front of your camera.
A recently advertised winter hike at Prairie Park Nature Center seemed like a sure thing. At a minimum I figured to find a group of people on a field and forest walk. Depending on the level of the trekkers' enthusiasm, I began to envision children skipping down a wooded path surrounded by Downy Woodpeckers and singing Blue Jays. (Photographers imaginations tend not to be based on reality.)
When the nature guide informed the hikers — six young girls — that they could wear fur coats for the hike, I realized no amount of imagination could have dreamt up this photogenic scenario. I began hyperventilating. Now the task was to capture a single feature image worthy of this situation.
As the girls tried on the coats inside the center, I frantically circled, framing images of the youngsters weighed down by the thick fur. The first interesting interaction came when the girls recognized a unique but not pleasant odor to some of the coats. Visualize a girl sticking her coat sleeve to the nose of a friend. As the smeller pulled back in a malodorous response, I snapped away. They were OK photos, but the scene was cluttered and didn't emphasize the coats as much as I wanted.
Next the group prepared to head outdoors, and I ran ahead to adjust my exposure settings and study the area for background possibilities. I also had to decide whether to remain close to the group and photograph with my wide-angle lens or keep my distance and use a telephoto.
As they started down the path I decided to join them, stay nearby and use my wide-angle lens. When they stopped to scan the treeline with their binoculars, I circled, attempting to creatively frame groups of two or three girls.
The problem was that some in the group were not wearing fur and I wanted the shot to include only fur-bearers. (That may be a pun.) My wide-angle attempts included too much unnecessary visual information.
To create more isolation between my furred and non-furred friends, I moved to another path parallel to the group and zoomed my lens to a medium telephoto focal length. This enabled tighter framing on certain girls, simplifying the scene and reducing background clutter. So when three girls, all in fur, stepped near each other and scanned the area for wildlife with their binoculars, I was ready. The isolation from the rest of the group lasted for six frames and only eight seconds. From a quick review of my camera monitor I knew I had captured a successful and somewhat surreal photograph.
Copyright 2018 The Lawrence Journal-World. All rights reserved. This material may not be published, broadcast, rewritten or redistributed. We strive to uphold our values for every story published.