Topeka — Intrigue over re-drawing congressional district boundaries increased Friday as U.S. Rep. Lynn Jenkins, R-Topeka, was seen in the Statehouse looking over a possible plan.
But Jenkins, whose 2nd House District includes west Lawrence, denied she was getting involved in the process, saying, "I trust lawmakers to do their job."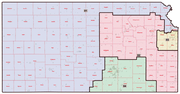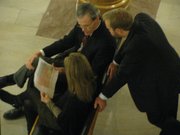 "I don't have a vote and I'm uninvolved," she said.
Jenkins and her chief of staff Patrick Leopold were seen in a Statehouse hallway looking over a potential congressional map with state Rep. Clay Aurand, R-Courtland.
State legislators are realigning boundaries of Kansas' four U.S. House districts to take into account population shifts over the past 10 years and make the districts equal in population.
The process could have a big impact on Lawrence, which was split 10 years ago between the 2nd and 3rd districts.
Lawrence leans Democratic and Republicans are in command of redistricting, holding all congressional seats, strong majorities in the Legislature and the governor's mansion.
One potential plan would place Lawrence entirely in the 2nd District. And another would place it entirely in the 3rd District, which is represented by U.S. Rep. Kevin Yoder, R-Overland Park. And other proposals would keep it split.
A major issue is how to add population to the western Kansas 1st District, which is 57,790 people under the ideal size for a congressional district.
Some have suggested putting Manhattan, currently in the 2nd District, into the 1st, but Manhattan officials oppose this proposal.
Another is stretching the 1st all the way to Wyandotte County, a Democratic-leaning county now in the 3rd District with Johnson County.
Senate Democratic Leader Anthony Hensley of Topeka has said for months Republicans were hatching this plan. Republican leaders have generally dismissed the allegation.
But on Friday House Speaker Mike O'Neal, R-Hutchinson, said, "There is nothing legally wrong with the map that Anthony Hensley has been railing against. Is it a pretty map? No. I would like to see a prettier map than that."
Hensley said Jenkins was "shopping" to legislators the map that would put Wyandotte County in the 1st. Under that proposal, all of Lawrence would be consolidated into the 3rd. Jenkins declined to say if she was supporting a specific plan.
The general direction of redistricting may emerge Monday when a Senate committee is scheduled to vote on a congressional map.
Copyright 2017 The Lawrence Journal-World. All rights reserved. This material may not be published, broadcast, rewritten or redistributed. We strive to uphold our values for every story published.