Lou Frydman, a survivor of the Holocaust who worked as a Kansas University social welfare professor and an advocate for change in the mental health system, died Tuesday. He was 81.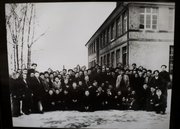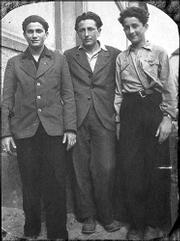 Frydman and his brother Abram, older than Lou by one-and-a-half years, were the only survivors of the Holocaust among his relatives from his native Poland, who numbered about 40, said his wife, Jane Frydman.
Americans liberated him at a sub-camp of the Dachau concentration camp. He was just under 15 years old.
Caryn Mirriam-Goldberg, Kansas' poet laureate, has written a book, soon to be published, on Frydman's experiences in the Holocaust called "Needle in the Bone." The title is taken, she said, from a time when he had to spring out of bed and stand still, but stepped on a needle. He had to remain still or risk the ire of the guards.
He couldn't go to the hospital, either, because people were routinely killed there. Later in his life, an X-ray showed that the needle had fused into one of the bones of his foot.
"He really helped me understand a trauma of that magnitude and how you carry it," Mirriam-Goldberg said. "You can use what you've learned to make a life of caring and joy."
Sitting in her home on Friday, Jane Frydman said her husband was also an advocate for change in the mental health system. He helped change laws and programs that used seclusion of patients as a treatment. Under the treatment, patients were separated from their families except for a half-hour per week.
Some patients continued to keep in touch later in life, too. A person who as a teenager was put into seclusion dropped off a plant to the house after hearing that Lou was sick.
Lou continued to research the Holocaust throughout his life and spoke about his experiences to anyone who would ask.
"He never turned it down," Jane Frydman said.
Two of his three sons, Rick and John, are Lawrence attorneys. A third son, Dan, lives in St. Joseph. He was most proud of his children and grandchildren, who meant the world to him, Mirriam-Goldberg said.
A celebration of his life is planned for later this spring. The family encouraged people wishing to make a contribution in Lou Frydman's memory to make a donation to the charity of their choosing.
Copyright 2018 The Lawrence Journal-World. All rights reserved. This material may not be published, broadcast, rewritten or redistributed. We strive to uphold our values for every story published.