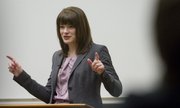 Cynthia Bauerly, who was appointed to the Federal Elections Commission in 2008, admitted Thursday that her brother thinks she's much cooler now that comedian Stephen Colbert has been focusing on campaign finance law.
The host of Comedy Central's "The Colbert Report" has spent past months making a foray into the world of super PACs, or political action committees, that were set up by the 2010 landmark Supreme Court decision in the Citizens United case. However, Bauerly told a roomful of Kansas University law students during her visit to Lawrence that she worried the issue was getting oversimplified under Colbert's spotlight.
"I hope that people don't substitute watching his show or signing up for Colbert super PAC mail as participating in this issue," the FEC's 2011 chairwoman said. "There are ways you can weigh in on that. That's not exactly participating in our democracy. That's being really entertained and with a really good educational purpose."
Bauerly is a Democrat appointed by President George W. Bush in 2008 to the regulatory commission that oversees campaign finance in federal elections. No more than three members on the six-person commission can be from the same political party.
Citizens United and another recent decision resulted in creation of super PACs allowing corporations, unions and individuals to contribute unlimited amounts to political causes, allowing them to have a hand in campaigns, particularly political advertising.
"What it's going to do is require candidates to raise even more money," she told the law students.
During the 2008 presidential election, outside groups spent $43 million. However, during the 2010 congressional mid-term elections with the existence of super PACs, she said, that jumped to $204 million. The FEC has already seen significant spending as part of the Republican presidential primaries, including in New Hampshire and South Carolina, and she worried about disclosure during a frenzied primary season.
"At this point in time because of the quick sequence of the primaries, you're not going to be able to see who has given money to some of the PACs until later in the month," Bauerly said.
As regulators and campaigns grapple with the recent changes, Bauerly said FEC commissioners are working to talk to outside groups across the country to get feedback.
"It can't just be," she said, "what people sitting in Washington would think."
Copyright 2018 The Lawrence Journal-World. All rights reserved. This material may not be published, broadcast, rewritten or redistributed. We strive to uphold our values for every story published.