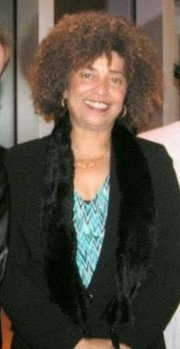 February Sisters anniversary events
Feb. 1
• 4:30 to 6 p.m., Opening of "Where We Were Then Where We Are Now: Women Artists at the Spencer Museum of Art," Spencer Museum of Art.
• 9 a.m. to 2 p.m., Student re-enactment of February Sisters Occupation, Wescoe Hall.
Feb. 2
• 4 p.m. to 5:30 p.m., "Women and Peace: the 2011 Nobel Peace Prize Trio of Laureates," a roundtable discussion, English Room, Kansas Union.
Feb. 4
• 7 p.m., "February Sisters Speak Out! Forty Years After the Occupation." Two oral historians interview six February Sisters, Spencer Museum of Art Auditorium.
Feb. 6
• 1:30 p.m. to 3 p.m., Hall Center Gender Seminar meet the author session with Virginia Scharff, women's historian and author of "The Women Jefferson Loved," Hall Center conference hall.
• 7:30 p.m., Virginia Scharff public lecture, "The Women Jefferson Loved," Lied Center pavilion.
Feb. 7
• 5 p.m. to 6 p.m., Angela Davis lecture, "Feminism and Activism," Room 120 Budig Hall. Free tickets can be obtained from Student Union Activities in the Kansas Union and from the women, gender and sexuality studies department, in room 213 of Bailey Hall.
A series of events at Kansas University, including a lecture from activist Angela Davis, will mark the 40th anniversary of the February Sisters occupation, which helped spark a number of reforms for women on campus.
In 1972, a group of students and staff members occupied what was the East Asian Studies building, 1322 La., and presented a list of demands for the administration. They were assisted by others, including faculty members, on the outside of the building, too, said Tami Albin, an associate librarian at KU who has researched the incident.
Albin and another oral historian, KU professor Sherrie Tucker, will interview six people involved in the effort, including three people who were inside the building, Mary Coral, C.J. Brune and Christine Smith, along with three retired KU professors: Beth Schultz, Marilyn Stokstad and Betty Banks.
The discussion is scheduled at 7 p.m. Feb. 4 in the Spencer Museum of Art auditorium.
After the brief occupation, members of the February Sisters group met with administrators and began to address their list of demands.
Many of their demands — a child day-care center on campus, more female administrators, better health services for women at the campus health center and the establishment of a women's studies program — were eventually met.
Today, the executive vice chancellor of the KU Medical Center is a woman, seven of KU's 13 academic deans are women and, of course, the university's chancellor, Bernadette Gray-Little, is a woman.
"Who'd have thought that 40 years ago?" said Ann Schofield, a KU professor of women, gender and sexuality studies who has been helping to coordinate the week of events.
The week will feature a public lecture by feminist scholar and activist Angela Davis.
"We saw her as someone who is going to be able to pick up the theme of what was activism then and what is activism today," Schofield said.
The event, scheduled from 5 p.m. to 6 p.m. Feb. 7 in room 120 of Budig Hall, is free to the public, but tickets are required. They can be picked up from Student Union Activities on the fourth floor of the Kansas Union or at the women, gender and sexuality studies office in room 213 Bailey Hall.
Copyright 2018 The Lawrence Journal-World. All rights reserved. This material may not be published, broadcast, rewritten or redistributed. We strive to uphold our values for every story published.