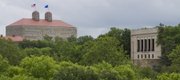 Subscribe to the email edition of Heard on the Hill and we'll deliver you the latest KU news and notes every weekday at noon.
Your daily dose of news, notes and links from around Kansas University.
• Here's some sad news that I picked up from my latest edition of Kansas Alumni magazine.
That old-timey freight-style elevator in Watson Library, the one with accordion doors, has ceased operating.
I have no idea how long it's been out of commission, but I remember as a student going through the folding metal gates that I had to open on the floor and in the elevator to get through it.
The magazine described pretty well what it was like to ride in it.
"Something like riding a buckboard pulled by a placid workhorse, the car creaked steadily along before lurching to a stop."
I also seem to recall getting a little jumbled up by the half-floor system in the elevator.
Well, the magazine reports that budget constraints finally did the elevator in.
With two other elevators nearby, library officials couldn't justify asking for $200,000 to repair the elevator. The magazine said the elevator had been operating since the 1930s.
Rest in peace, old elevator. I knew thee well.
• KU has a new website devoted to its plan to operate more efficiently, which it likes to call "Changing for Excellence." It just wouldn't be higher education, would it, if we didn't have plans with big, grandiose names?
But, anyway, this essentially boils down to KU trying to be more efficient through a variety of different measures.
We still appear to be in the beginning of the implementation of all this. No projects are listed as active on the main Changing for Excellence site.
But I quickly navigated over to the facilities page of the report to see what could be gleaned there.
The reason I looked at facilities is because this area has received most of the attention so far. And, actually, KU seemed to sum it up pretty well in one of the "challenges" listed on the facilities site.
"There is a prevalent lack of trust and fear of change within KU FO and Housing; staff feel threatened by the change and fear job reductions."
That's probably about right.
The site does mention that KU will look to move to "contemporary zone maintenance," reducing the number of supervisors needed for its facilities staff by about 12 to 14.
We'll see where this goes as the project moves forward. As always, if you've got something to say about this effort, don't hesitate to let me know.
• CW Cooke, a 28-year-old KU graduate who is a comic book writer (I think I must have missed that major on the list during my freshman enrollment session), has written a 32-page comic book biography of Apple co-founder Steve Jobs.
Here's a Q&A; with Cooke from the Washington Post.
"I want readers to know all that they can about him and learn how truly remarkable he was," Cooke told the newspaper. "Beyond the turtlenecks and the Apple products, he was a man with an incredible life."
• It's a new semester, and so it's time once again for that long-standing Heard on the Hill tradition of flipping through the KU directory, finding a random name and asking someone directly to submit a tip for Heard on the Hill. So let's have it, Linda Narcomey, administrative associate in the department of ecology and evolutionary biology, tell me something I don't already know at ahyland@ljworld.com.
Copyright 2017 The Lawrence Journal-World. All rights reserved. This material may not be published, broadcast, rewritten or redistributed. We strive to uphold our values for every story published.