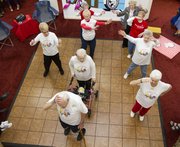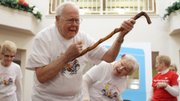 They're at it again.
In December, the video of their "flash mob," or surprise dance routine, at the Lawrence Target went viral. On Sunday afternoon, the group of Meadowlark Estates residents performed a new one at the retirement community in northwest Lawrence.
The group now has a name: The Meadowlark Chicks and the Rooster. As they danced to a Rascal Flatts cover song, "Life is a Highway," the Rooster, Bob MacLeay, rocked an air-guitar solo with his cane.
"There was a lot more practice than the old one," MacLeay said.
Dozens of people came to the home's open house to watch the group perform two dances. The first act was their original dance, which has received more than 1.6 million hits on YouTube and was featured on NPR and the "Today Show." The group performed an encore with their latest routine, part of Meadowlark's RV Road Trip, a set of activities for residents this month.
Andrea Wyatt, activity coordinator at Meadowlark, recruited the dancers after Meadowlark's home office in Vancouver, Wash., proposed the idea of a flash mob. She said she originally posted the video online for the group's family members to see. Nobody knew it would capture the nation's attention.
"I had no idea it would mushroom like it did," said Jackie Marrs, another member of the group.
Roberta Lewis, a fellow Meadowlark Chick, said the video's popularity also surprised her. She saw pictures of it at her church, and family members "sent it everywhere."
Amid the overwhelming wave of media attention, Wyatt said she has loved the experience.
"It just shows you no matter what your age, you can have fun," Wyatt said.
Marrs, who moved to Meadowlark in November, said the experience was a great way to make new friends. MacLeay reconnected with relatives and old Army friends who contacted him after recognizing him in the video. He also learned a few things about the Internet.
"Tell you the truth, I hadn't heard of YouTube (before the video)," MacLeay said.
The group gave mixed answers about whether there would be another flash mob. Wyatt said the public would have to wait and see. Lewis, understanding the importance of surprise, said she thought one flash mob was enough.
Copyright 2018 The Lawrence Journal-World. All rights reserved. This material may not be published, broadcast, rewritten or redistributed. We strive to uphold our values for every story published.