Kansas University graduate Maggie Koerth's employer, BoingBoing, was one of numerous prominent websites — including Wikipedia and Reddit — that "blacked out" their sites Wednesday in protest of controversial legislation being considered by Congress.
On the street
I know it's gotten a lot of attention. I heard about it on NPR — Wikipedia, Google and other sites have been down today to protest it. I signed the petition because I feel that it puts unnecessary restrictions on internet use and there shouldn't be those harsh limitations on speech online.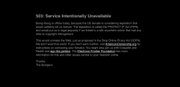 Koerth, who graduated from KU in 2004 with a degree in journalism, is the science editor for BoingBoing and part of a galvanized online community opposed to the Stop Online Piracy Act, or SOPA, and the Protect IP Act, or PIPA.
Koerth said her company went black Wednesday "to demonstrate what could happen if SOPA passed." Koerth spoke about the potential economic impact the legislation could have on people such as her in the "creative endeavors" field.
"It's going to hurt my job," Koerth said.
The legislation has been championed by people in the film and music industry, who often sees their products sold illegally. They say the legislation is needed to protect intellectual property and jobs. Advocates against SOPA and PIPA, however, argue that the legislation's language opens the door to a wide range of opportunities for censorship and liability for content aggregator sites and blogs such as BoingBoing.
Nancy Baym, a KU communication studies professor, said the legislation lacks checks and balances, opening the door to silencing dissent.
"You're guilty until you're proven innocent," said Baym, who studies online communication. Baym said the legislation seeks to protect a "dying business model," and compared it to banning the engine in favor of the interests of horse buggies.
The most controversial provision is in the House bill, which would have enabled federal authorities to "blacklist" sites that are alleged to distribute pirated content. That would essentially cut off portions of the Internet to all U.S. users. But congressional leaders appear to be backing off this provision.
On Wednesday, several lawmakers from Kansas expressed their opposition to SOPA and PIPA.
U.S. Rep. Lynn Jenkins called the proposed legislation "censorship."
"There can be no doubt that the Internet has proven to be one of the greatest harbingers of free speech, free expression, free enterprise and the American Dream the world has ever known," said Jenkins, a Republican whose district incudes western Lawrence. "Yet today, in the halls of Congress, some are pushing misguided legislation that could crush the Internet with gratuitous regulations, stifle it with censorship, and open the door for rampant legal abuse, all under the guise of stopping online piracy."
Jenkins was joined in opposition to SOPA and PIPA by U.S. Rep. Kevin Yoder, R-Kan., and by Republican U.S. Sen. Jerry Moran, who released statements Wednesday.
The Obama administration has also raised concerns about the legislation and said it will work with Congress on legislation to help battle piracy and counterfeiting while defending free expression, privacy, security and innovation in the Internet.
Copyright 2018 The Lawrence Journal-World. All rights reserved. This material may not be published, broadcast, rewritten or redistributed. We strive to uphold our values for every story published.