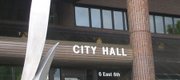 Subscribe to the email edition of Town Talk and we'll deliver you the latest city news and notes every weekday at noon.
News and notes from around town:
• Treat yourself like the King of Spain. That's the strategy of Downtown Lawrence's newest Mexican restaurant. Tapas has opened its doors in the former Jo Shmo's spot at 724 Mass.
When we first reported in November that the restaurant was slated for the spot, the name created some confusion. It is a Mexican restaurant, but its name is Tapas? Don't you know that Tapas — think of them like a small snack to go with a drink — are a type of Spanish food, not Mexican? Well, calm down Bobbie Flay wannabes. Gus Juarez, general manager and co-owner of the restaurant, is well acquainted with the tradition.
Here's the bottomline. The restaurant is not a Tapas restaurant, but it does serve Tapas. You just won't find them on the menu. Confused? Here's how it works. From 2 p.m. to 4 p.m. each day, Tapas will be available at the restaurant. Anybody who comes into the restaurant — which has a full bar — will receive free chips and salsa. If you order an alcoholic beverage, you'll also receive a free Tapa. But you won't order it. There's no Tapas menu at the restaurant. It is up to the chef to decide what to serve with your drink. Juarez said most of the time, the Tapa will be a smaller version of a menu item.
As for the menu, it is fairly traditional Mexican. It is priced to do volume business, said Juarez, who previously owned a small Mexican restaurant in the Manhattan/Junction City area, worked for another regional Mexican restaurant chain, and also worked for Harrah's gaming in Kansas City and Topeka. There are several lunch items for less than $5 on the menu, and most are less than $6. On most days, the restaurant will be serving 99-cent margaritas. The menu also includes more substantial items, such as Mexican shrimp dishes, pork tips, fajitas and other Mexican regional dishes.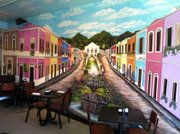 The restaurant is a large one. The business has a second floor dining area, and when it is all said and done, it will have some unique artwork too. Juarez — who owns the business with a silent partner — has hired a Puerto Rican artist to paint the walls with scenes of old-time Mexican cities, beaches and other similar decor. The artist actually will be painting live in the restaurant during several of the next Final Fridays art events in downtown.
But the Tapas idea is the one that has stuck with me. Juarez said they will be served on a small plate that will rest upon the top of your glass of alcohol. There's a reason for that too. Juarez said the history of Tapas dates back to an old Spanish King. Perhaps King Alfonso X, but there was a lot of wine drinking going on, so the history books kind of read like a late Saturday night on that subject. But anyway, the king had this "disease." He seemed to get sick when he would drink wine all day and not eat anything. Go figure. So the King's doctor ordered his staff to serve the King some food every time he would drink. The staff said if it had to serve the King a full meal every time he drank, they would have to annex Portugal just to have enough room for the King's throne, if you know what I mean.
So, the doctor suggested small little dishes. The King so loved the arrangement, that he ordered that any establishment that served alcohol in his kingdom must serve the small little dishes. And they must be free. The dishes became known as Tapas because the dishes were served on top of the drinks as lids, either to keep flies out of the wine or to cover the smell of the less than stellar vino of the day. Tapa, I'm told, is Spanish for lid.
So, there you go. Who would have thought it? Here I've been sophisticated for a long time. When I eat my Doritos and drink my bourbon on my couch, I'm actually having a Tapa. The next time my wife complains, I'm going to tell her to lay off. I'm being kingly. Yeah, that should work.
• The only thing royal about last night's City Commission discussion regarding boarding houses, parking and the Oread neighborhood was that it was a royal pain in the … well, let's say throne.
Commissioners, residents and landlords talked for nearly two hours on the subject of changing regulations related to boarding houses, and then they ended up deferring the item until next week.
But I do think some change could be coming to Oread in the future. Commissioners will tweak the boarding house regulations by basically making it tougher for smaller houses — those less than 4,500 square feet — to take advantage of less restrictive parking regulations.
The bigger change, though, may come with a whole new approach to parking in Oread. Commissioner Mike Dever said he's becoming more convinced that maybe the entire Oread area should be a parking-by-permit-only type of neighborhood. In other words, all those students and faculty at KU who don't live in Oread wouldn't be able to park on the public streets each day.
Dever said the city and KU have a fine bus system, and this might be a way of encouraging more people to use it. Other commissioners seemed interested in at least talking about the idea.
It is worth keeping an eye on. I also think a discussion of requiring apartments in Oread — and perhaps throughout the city — to be part of the city's rental licensing program is a real possibility. Currently, only single-family homes that are rentals are required to be part of the program. One of the components of the program would involve a city inspection of the interior of the apartments at least once every three years.
Some have suggested there are plenty of Oread properties that would have a hard time passing that health and safety inspection.
"There are some very nice structures that have been rehabilitated in Oread, and then there are some real dumps up there," said City Commissioner Bob Schumm. "I don't know how some of them can safely be lived in."
• There is news on the banking front. Landmark National Bank, which operates two banks in Lawrence but is based out of Manhattan, has reached a deal to purchase The Wellsville Bank. Wellsville, located in Franklin County, will be the 17th community for Landmark's operations. Landmark also has banks in Lawrence, Manhattan, Auburn, Dodge City, Fort Scott, Garden City, Great Bend, Hoisington, Junction City, LaCrosse, Louisburg, Osage City, Osawatomie, Paola, Topeka, and Wamego.
Landmark currently has assets of about $578.4 million, while The Wellsville Bank has assets of approximately $35.6 million. Terms of the sale were not disclosed. The transaction is expected to be finalized in the second quarter or early third quarter of this year. The Wellsville Bank, which has been controlled by the Moherman family over much of the last century, will be renamed to the Landmark brand.
Copyright 2018 The Lawrence Journal-World. All rights reserved. This material may not be published, broadcast, rewritten or redistributed. We strive to uphold our values for every story published.