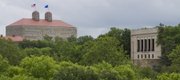 Subscribe to the email edition of Heard on the Hill and we'll deliver you the latest KU news and notes every weekday at noon.
Your daily dose of news, notes and links from around Kansas University.
• Here's an interesting write-up of some research from Christian Crandall, a KU social psychology professor, and two colleagues from Wellesley College from Wired magazine.
The study was published in the journal Group Processes and Intergroup Relations. The question here is essentially "Do Opposites Attract?" The answer, as it turns out, is not so much. We tend to associate with people who rather are like us.
The researchers compared relationships at KU with relationships at four smaller rural colleges in Kansas.
They approached pairs of people at each place, and administered a short survey, looking for all kinds of information, including age, ethnicity, political ideology, opinions on birth control and whether they ever engaged in binge drinking.
"In an ideal world, being able to meet lots of different people at college would lead to a diversity of friends; we'd take advantage of the human variety on display," the magazine wrote. "But that's not what happened. [The researchers] found that students at the huge state school tended to spend time with people who were much more similar to them than students at the small, rural colleges."
In other words, the students were taking advantage of the size of the group to find people much like themselves.
This is, according to the magazine at least, kind of, well, sad. The friendships were closer and longer lasting at the small colleges. And the article cites an analysis of Stanford Business School graduates that says a diverse social network can lead to a number of other benefits, too.
So there's your mission, KU. Say hi to someone strange today.
• KU has posted some of the response from the first of three research summits held in support of three new strategic initiatives that will guide KU research under the university's new strategic plan. This one involves new ways KU can provide for a sustainable environment and the availability of affordable energy.
I took away a few small nuggets from the post-summit report:
• This one was interesting. I noted the continuing push for hiring outstanding mid-career and distinguished faculty members. The report even suggests inviting distinguished faculty to visit for a semester or a year "in the hope that the pleasant living environment of Lawrence might entice them to stay."
Free housing should be provided, the report suggests, along with free admission to campus events, the Flint Hills Symphony or KU basketball games.
• There's a lot of chatter about "multidisciplinary" research going on. This is really actually always the case, but I see a lot of new suggestions in the report I hadn't seen before. Namely, rewarding multidisciplinary work in promotion and tenure cases, financial incentives for "entrepreneurial faculty" to receive compensation beyond summer salary for promoting multidisciplinary research and sponsoring more social gatherings and other events among faculty with mutual interests.
• I also noticed the suggestion that KU should pursue a faculty training program that helps introduce faculty — new and senior faculty, it says — "to a variety of potential sponsors" beyond the National Science Foundation and the National Institutes of Health, including a whole bunch of federal government organizations and even some state ones, like the Kansas Bioscience Authority.
It'll be interesting to see which of these suggestions get picked up moving forward.
• Those visiting distinguished faculty members should also know I'll let them submit a tip to Heard on the Hill for free, too. Just don't tell them that's a perk available to anyone who cares to send one to ahyland@ljworld.com.
Copyright 2018 The Lawrence Journal-World. All rights reserved. This material may not be published, broadcast, rewritten or redistributed. We strive to uphold our values for every story published.