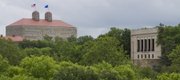 Subscribe to the email edition of Heard on the Hill and we'll deliver you the latest KU news and notes every weekday at noon.
Your daily dose of news, notes and links from around Kansas University.
• A sweet tipster alerted me to the fact that Steve Hawley, a former astronaut who's now a KU physics professor, gave a talk last week at the meeting of the American Astronomical Society commemorating 50 years of human spaceflight.
This article makes reference to a few choice tidbits in Hawley's talk, including that the aerospace programming language used on the space shuttle's computers (which is apparently really called HAL), is about 0.005 percent as powerful as the language used on an Xbox 360.
So I called Hawley for some other tidbits. Any conversation with Hawley is bound to spark some new knowledge I didn't know before, and here's a good story he relayed to me.
Apparently NASA keeps track of all sorts of records among astronauts, and Hawley has one that he'd probably just as rather not have.
"I've got the most launch scrubs," he said.
He and NASA count "scrubs" a little differently. NASA counts a launch as a scrub if the shuttle gets fueled up, and then can't go for whatever reason. Hawley said that happened to him a few times, and he was usually sleeping before the launch when they'd knock on his door and tell him it was a no-go. Hawley said he counts it as a scrub if he got all dressed up and decked out and strapped in and they decide to cancel the launch.
So how many times did that happen to him?
"Something like 15 or 16 times," Hawley said.
• Here's an article in the University Daily Kansan about e-textbooks and how they have the potential to change the college landscape.
I haven't noticed a big move toward e-books in classrooms — at least not yet, anyway — at KU. As the article points out, they would certainly lighten the large backpack loads of today.
But I can see certain drawbacks, too. If anyone's been using an e-book as a textbook in a KU class, I'd be interested to know about it, so please drop me a line.
• And, finally, thanks to David Gaston, careers guru and an assistant vice provost at KU, who sent me a photo taken in Rogers, Ark, of an Alaska license plate that reads "ROKCHK."
He'd recalled the bit about Jayhawk license plates in Heard on the Hill before. While Jayhawk fans do indeed seem to pop up just about everywhere you go, I bet those license plates are a little easier to get in Alaska than they are here in Kansas.
• If I counted the times I scrubbed a Heard on the Hill blurb because it didn't make sense halfway through, it would be much higher than I'd be willing to admit. I can always count on Heard on the Hill tipsters, though, to keep sending me the good stuff at ahyland@ljworld.com.
Copyright 2018 The Lawrence Journal-World. All rights reserved. This material may not be published, broadcast, rewritten or redistributed. We strive to uphold our values for every story published.